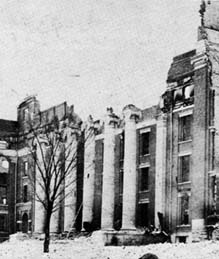 Ruins of Academic Hall after 1892 fire
Navigation
Welcome to the University Archives
University Archives is the depository of official records of the University of Missouri as well as of the administrative records of the University of Missouri System. University Archives also houses and preserves private papers, organizational records, and manuscripts that relate to the history of the University, the University community, and the University System.
University Archives is part of the MU Libraries at the University of Missouri.
Announcements
The Lewis Hall offices of University Archives will be closed from
5:00 PM on December 22th, 2017
until
8:00 AM on January 2nd, 2018.
Please leave any information requests at
(573) 882-7567 or muarchives@missouri.edu
during that time.
---
As you make plans to visit the Archives,
please be aware that due to a water leak in July 2017, recovery and renovation work will be ongoing through March 2018.
There will be times when not all archival records will be available for research or when the offices will be closed during regular working hours.
Please contact a member of the staff to confirm availability of the records you are interested in using.
About the Archives
Reference and Duplication Services
Why does this page look different?
In designing this web page, the University Archives made every attempt to make their pages more accessible to all people. To do this, this page and others in this site were created using web standards and with many standard accessibility features, which most modern browsers support.
All the information and functionality of these pages are available to all browsers, but they may not look the same. For more information, please read our accessibility statement or the information at the Web Standards Projects.
Back to the Top | Back to the Content | Back to the Navigation