Note: All images are thumbnails to larger photographs. Click on the thumbnails to see the pictures in greater detail.



(Savitar 1983, page 284)
Inscriptions above the entrance to Memorial Union list many of the students and alumni who died serving in World War I. Click the link below to view a list of names compiled from plaques and engravings at the University.

Military Casualties



Soldiers of Company A at Camp D.R. Francis in 1890.
(University Archives, C:22/8/1)



Cadets training on the Francis Quadrangle in 1908.
(University Archives, C:0/47/3)



"The Firing Squad," circa 1912.
(University Archives, C:0/3/7)



Captain Titus' Company, circa 1912.
(University Archives, C:0/3/7)



On May 10, 1940, the ROTC building was dedicated and named Crowder Hall, in honor of Enoch Crowder.
(University Archives, C:1/40/1)



A notice of MU students and alumni recruited for the American Ambulance Field Service in France.
(The Missouri Alumnus, May 1917)



Camp Mcfarland, Rocheport, Missouri, circa 1919.
(University Archives, C:22/8/27)



Tents at Camp Mcfarland, circa 1919.
(University Archives, C:22/8/27)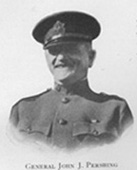 In 1920, General John J. Pershing was given an honorary degree at the University's 78th commencement. Pershing, a native of Laclede, Missouri, led the American Expeditionary Forces to victory in Europe during World War I.
(Savitar 1921, page 59)



1927 ROTC Certificate.
(University Archives, C:22/8/27)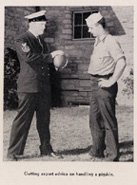 Paul Christman, Missouri's first All-American football player and member of the College Football Hall of Fame also has ties to the military at the university. In 1941 he returned, not as an athlete, but as Chief Boatswain's Mate at the MU Naval Training School.
(Savitar, 1943, page 135)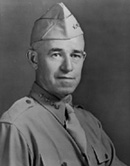 General Omar Bradley, a native of Moberly, Missouri, received an honorary degree from the University of Missouri in 1946. In Europe, during World War II, he led the 12th Army Group which was the largest single field command in U.S. History.
(University Archives, C:1/141/8)



The barracks at Ft. Leonard Wood.
(Savitar 1942, page 246)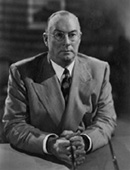 In 1942 Donald M. Nelson, a 1911 engineering graduate of the University of Missouri, was made Chairman of the US War Production Board having final authority over production and procurement for the war program. Nelson would return to MU in 1942 to give a commencement speech.
(University Archives, C:9/1/2/8)



U.S. Army Air Corps Pennant, 1943.
(University Archives, C:0/46/55
Courtesy of Lee Gray, Aledo, Illinois)



Eleanor Roosevelt addresses a student assembly in Brewer Field House.
(Savitar 1943, page 109)

The Military and
Mizzou:1861-1946

105mm Howitzer Crew.
(Savitar 1943, page 117)

Table of Contents:
The role of the University of Missouri-Columbia in the American military began in 1862, during the Civil War. Missouri was a border state, and Columbia was a town that had many citizens of southern ancestry, so the university area fell under the eye of the federal government. On January 2, 1862, a group of Missouri volunteers known as "Merrill's Horse" arrived in Columbia. The troops pitched tents on the campus and garrisoned the school. Academic Hall, the former administrative building that burned down in 1892, was used to house soldiers. The troops also interned Confederate prisoners in the main library on the third floor.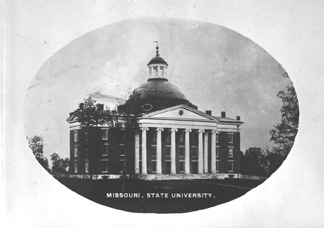 Academic Hall, pre-1885.
(University Archives, C:0/3/8)

The Civil War had other detrimental effects on the university, as well. Classes were suspended for 10 months, in part because of troop occupation, and also because the university became short staffed. Only one staff member, however, chairman of the math department, Edward T. Fristoe, joined the Confederacy. Students joining one side or the other in the war cut enrollment from 112 in 1860 to just 40 during the war. After the Union troops left the university in 1865, the curators filed a claim against the federal government for damages incurred by the troops during occupation. Horses and wagons ruined the grounds, holes were cut in walls and floors by prisoners trying to escape, books from the library were used for fires, and over 100,000 specimens in mineral and fossil cabinets were reportedly damaged. It was also reported that Union soldiers found a box of blank diplomas and held their own commencement, awarding themselves university degrees. The claim was settled in 1915, with the University of Missouri receiving $7,450 for the damage claims. Over half of the settlement went to litigation fees, so the university actually received $3,383.33. The award was used to build the north gateway of Francis Quadrangle, located at 8th and Elm.

The Morrill Act of 1862 gave the University of Missouri a more active and important role in U.S. military affairs, after 1870. The Morrill Act created Land Grant institutions for teaching Agricultural and Mechanical Sciences, but it also required these colleges to cooperate in the National Defense Program, by obligating all male students to take a basic course in military tactics.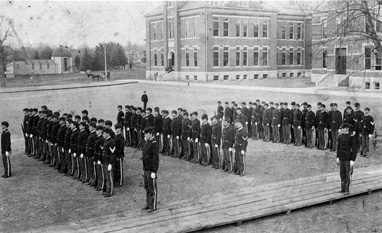 Military drilling on the Quad.
(University Archives, C:0/47/2)
MU was one of the first universities to adopt with the Morrill Act, establishing the Missouri Military School. The first officer, General R.W. Johnson, was assigned to MU in 1868, and formal instruction began at the University in 1870.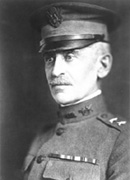 Enoch Crowder.
(University Archives, C:1/141/6)

Born in Edinburg, Missouri, Lt. Enoch Crowder was a prominent figure in the role of the military at MU. A graduate of West Point, Crowder was appointed head of the military department at the university in 1885. Crowder only taught at MU for two semesters, but during his time 200 men were in the military program. Due largely to petitions from some of the 100 MU women students, Crowder also helped organize the Ladies' Department Drill Company, which lasted for two years. Lt. Crowder also encouraged Professor Frederick Pannell of the Music Department to organize a brass band for reviews and public occasions, so in 1885, the first university band was formed.

In 1886, Crowder was issued orders to join his regiment in New Mexico for the campaign against a group of Chiricahua Apache led by Geronimo. He would never again return to instruct at MU. In 1911, Crowder was named Judge Advocate General of the U.S. Army by President Taft. While teaching at MU, Crowder had earned a Bachelor of Laws degree, which aided him in executing his duties as Judge Advocate General and in writing the Selective Service Act of 1917. Later, in 1940, the new ROTC building was dedicated and named in his honor, becoming Crowder Hall.

In May of 1898, Company I, the 5th Missouri Volunteer Infantry was sent to a training camp at Chickamauga, Georgia. Camp Thomas, located at the famous Civil War battlefield, was home to "the University Company" from May 26-August 26, 1898. The company was not made up entirely of MU students, but it received its nickname ("The University Company") from its large proportion of MU undergraduates, alumni, and former students. The company's commissioned and non-commissioned officers were all MU undergraduates, and no other school sent as large a proportion of their undergraduates into service during the Spanish-American War.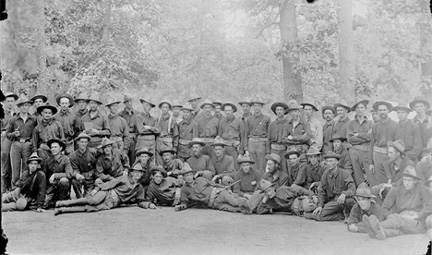 Company I, Camped at Chickamauga, Georgia.
(University Archives, C:22/8/1)
Mosquitoes, disease and typhoid were prominent dangers for soldiers stationed at Chickamauga, but Company I left a clean record at the camp with no deaths, fines, sentences or stoppages of pay. This is partly attributed to the fact that Company I was never deployed in Cuba. However, three of the former students, alumni, and undergraduates of the University of Missouri that served in other companies died during the Spanish-American War.

Military Casualties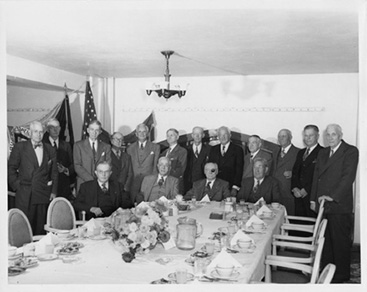 Reunion of Spanish-American War Veterans November, 1950.
(University Archives, C:0/3/3)
The National Defense Act, passed in 1916, established the Reserve Officer's Training Program at schools and colleges throughout the United States. The program was created to develop trained leaders for times of national emergency and to teach military science and tactics on an equal footing with other academic subjects. Before this program at MU, only drill and basic rudiments of military practice were offered.
One year after the establishment of the ROTC the United States entered World War I. The number of students enrolled was heavily reduced as students and faculty left for military service or to work in war industries. Some fraternity and dormitory buildings were used as barracks for troops during training and instruction. In addition to students entering the war effort as soldiers, 48 students and MU graduates were recruited for the American Ambulance Field Service in France. The French requested 7,000 ambulance drivers for the war, and some were so eager to help that at least twenty people from MU volunteered to pay their own way to help. In 1918, the war effort along with the flu pandemic caused the suspension of intercollegiate athletics.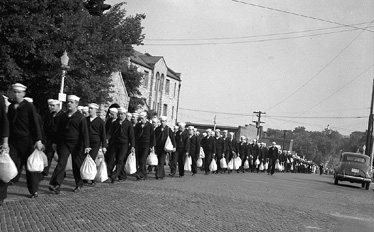 Sailors marching from the Wabash Train Station to the University,
Summer 1942.
(University Archives, C:1/141/6)

After the United States declared war against Japan in 1941, the University of Missouri began to again undergo the drastic changes brought on by a nationwide war effort. Attendance at MU, which consisted of around 5,000 enrolled students in 1938, dropped to about 1,500 by 1943. Many students and faculty entered the service or left the University to help in other areas of the war effort. A naval ROTC unit was established at the university in 1940, and by 1943, the 307th College Training Detachment (Aircrew) had brought an Air Corps training program to MU. Crowder Hall, built in 1938, became the headquarters for all military activity on campus, and Gentry Hall was used as a barracks during the war years.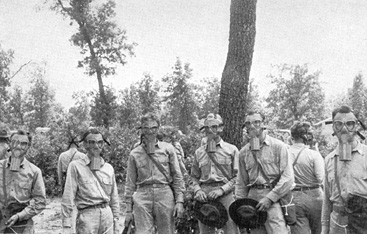 Advanced military students receiving six weeks of summer training
at Fort Leonard Wood.
(Savitar 1942, page 246)
An even larger military presence was brought to the University of Missouri when the Army Specialized Training Program, or ASTP, was established in December, 1942. The program was created to send soldiers to educational institutions to train in disciplines like medicine, dentistry, and foreign languages. ASTP sent many former college students that were now soldiers to the University of Missouri by July, 1943 to study these technical specialties deemed necessary to the war effort. The soldiers were housed in dormitories and some requisitioned fraternity houses, while Crowder Hall served as their mess hall. The program was shut down in 1944, due to the manpower demands for the invasion of Europe.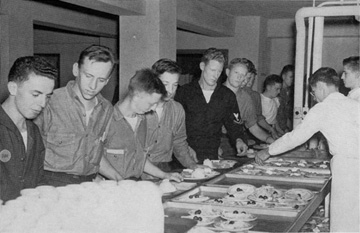 Naval students receiving their mess hall meals.
(Savitar 1943, page 137)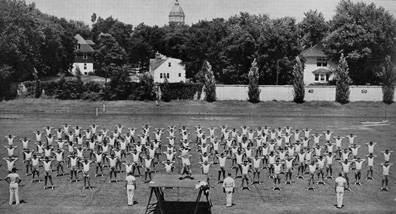 Army Air Corps students performing calisthenics on Rollins Field, 1943.
(University Archives, C:29/00/2)
Although the Army Specialized Training Program was shut down in 1944, military training at the University has continued through the present. The Army, Air Force and Navy all have ROTC programs currently in place at the university. To learn more about each specific program and its history, click one of the links to their official websites listed below: