Search
Holdings:
* UM-System
* Columbia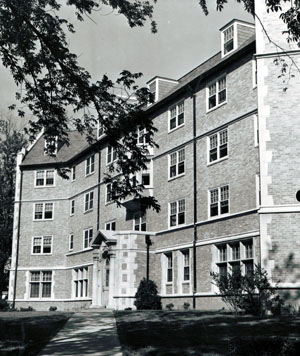 Eva Johnston Hall
(University Archives, C:1/40/1)
Donating Personal or Organizational Records
The University of Missouri-Columbia Archives accepts additions to its collections and holdings, especially unpublished personal papers and organizational records such as correspondence, diaries, photographs, scrapbooks, and research files that complement official records created by the University of Missouri - Columbia and the administration of the University of Missouri System.
When materials are received into the Archives, the donor(s) and Archives staff complete an instrument of donation document, which transfers legal custody of the materials to the University Archives and also prescribes donation conditions and restrictions. If the donor is giving a gift of personal or family papers, a Deed to Donation of Papers and Historical Materials (download in Portable Document Format) is completed and if a gift consists of business, organizational or club records, a Deed of Gifts of Organizational Records (download in Portable Document Format) is filled in and signed.
Donation guidelines can be found in the Archives Collection Policy and Donor Information section.
For University departments and offices seeking information on transferring official institutional records to the Archives, please refer to Sending University Records to the Archives.
For additional information on donating materials to the Archives, please contact the University of Missouri-Columbia Archives, 401 Ellis Library; Columbia, MO 65201, Phone (573) 882-7567, or e-mail coxgd@missouri.edu.