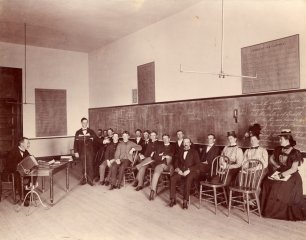 Dr. John Rutledge Scott's Elocution Class, ca. 1897
(University Archives, C:0/47/1)
Instruction in University Archives
University Archives would like to help introduce your students to working with original and primary resources.
1. Working with original sources can be an invaluable learning experience.
2. University Archives is the major repository for materials relating to the University of Missouri-Columbia and the UM System, including students, faculty members, and the general University community.
3. Few Mizzou students are aware that such important resources are available on campus.

A member of the University Archives staff would be delighted to speak to your class about the various University Archives materials and about using archives in original research.
Our talk would be tailored to your class and could include:
our holdings pertaining to your class or discipline
ways we can help your students find and use archival resources for their projects
tips on safely handling archival documents
guidelines for using our holdings - including an explanation of our comprehensive web site
what an archives is and how archivists work to preserve and make available the documents in their care
any specific topics you would like covered for your class
When planning your next semester, how about scheduling a speaker to visit your class or a tour of University Archives. Please contact:
Gary Cox
Public Services Archivist
coxgd@missouri.edu
402 Ellis Library
573 882-3727