Dramatic Images
A Display of Play Photographs from the University of Missouri Theatre

Previous to May 15, 1940, dramatic productions and theatre courses offered by the University of Missouri-Columbia were under the administration of the College of Arts and Science's English Department. The Board of Curators, in 1940, established an independent Department of Speech and Dramatic Art. In June 1986, the School of Fine Arts was organized with a Theatre Department devoted exclusively to theatrical instruction and performance.

This exhibit is drawn from a collection of action, still, and cast photograph negatives from plays performed by the UMC Missouri Workshop Theatre between 1927 and 1951. Professor Donovan Rhynsburger directed all of the plays displayed below, with the exception of some of those presented between 1936 and 1938 (he was then involved in completing work on his Master of Arts degree at Yale). During his forty-three year tenure as director of the University Theatre, Rhynsburger also served as Chairman of the Department of Speech and Dramatic Art and taught undergraduate and graduate classes as well as founding and directing the celebrated "Missouri Workshop Theatre." Professor Rhynsburger even performed in many plays, as did his talented wife, Peggy Rhynsburger (see Abraham Lincoln below, in which the Rhynsburgers star as Abraham and Mary Todd Lincoln).

The photograph negatives in this collection have been digitally stored due to the increasingly unstable condition of their nitrate based composition. The originals are therefore not available for patron use, however, digitized copies can be viewed at the UMC Archives. The original programs for many of these productions are also in the UMC Archives' holdings. Most of the collection's photographs are not represented below, only a few selected images have been included as examples. All sizes are given in inches unless otherwise indicated.

Note: Left-clicking on the small images below will bring up larger versions.

1. Abraham Lincoln (twelve 5x7 negatives) November,1935
Professor Donovan Rhynsburger as Lincoln; Peggy Rhynsburger as Mary Todd Lincoln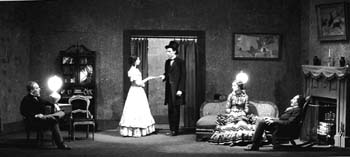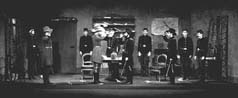 Scenes from Abraham Lincoln, Feb. 1935

2. As Husbands Go (thirteen 4x5 negatives) December, 1933
Peggy Rhynsburger stars as the wife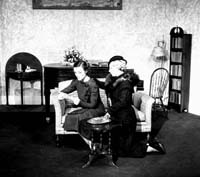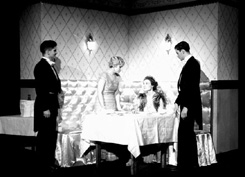 Scenes from As Husbands Go, Dec. 1933

3.Berkeley Square (three 4x5 and ten 3x4 negatives) November, 1932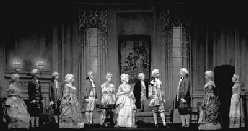 Scene from Berkeley Square, 1932

4. Both Your Houses (ten 4x5 negatives) February-March, 1934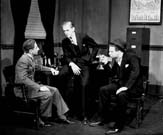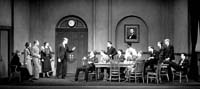 Scenes from Both Your Houses, 1934

5. Bury the Dead (six 4x5 negatives) 1936; directed by Herbert V. Hake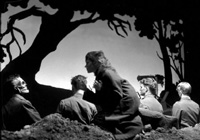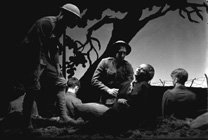 Scenes from Bury The Dead, 1936

Click here to visit: