Search
Holdings:
* UM-System
* Columbia
Call Number:
(C:22/3/6)
Box 1-UMLD1
OSB 1 [A19-53]-Ellis
Call Number:
(C:22/3/6a)
MFR 1, MFC
MFR 2, MFC
Record Group: 22 C
Record Sub-Group: 18
Records Title: UMC; Student Life and Activities; Newspapers; MU "Underground" Newspapers
Dates: 1915-1916, 1935, 1938, 1955, 1963, 1965-1972, 1975, 1978, 1985-1986, 1988, 1990-1995, 1997-2000
Volume: 1 cubic foot, 1.25 linear feet; 2 MFR
Scope and Content Note
(A99-18; A00-164; A19-53; SPEC-MU)
This Record Sub-Group contains original copies of student newspapers not directly sponsored by the University of Missouri, known as "underground" publications. Because of the unofficial nature of these publications, often examples of only a few issues survive. In many cases, the exact number of issues that were published is unknown. Additionally, some issues that have been preserved are difficult to date. Included in the Sub-Group are copies of Anarchy, A Journal of Desire Armed, New Morning, Free Press Underground, Columbia Free Press, Catalyst, and The Peace Action. Also included in this Sub-Group is a microfilmed collection of "underground" student publications from the combined holdings of the University Archives, Ellis Library Special Collections, and the UM Library Depository.
The bulk of the publications in this Sub-Group stem from the time of student unrest during the late sixties and early seventies. Notable among these papers is the February, 1969 issue of Free Press Underground. Its cover, regarded as "indecent" by university officials, sparked a free speech debate ultimately ending in a Supreme Court Case. A graduate student in journalism was expelled for distributing the disputed issue of the paper. In Barbara Susan Papish v. The Board of Curators of the University of Missouri, et al. of 1973, the Supreme Court overturned Papish's expulsion. Scanned images of the cover and verso page have been stored on DVD and are located with Digital Media.
Note to Researcher: Items from Accession A19-53 were added to this Sub-Group after the microfilm (Item 2, below) was created.
For issues of the student newspaper MSU Independent, 1897-1909, see Record Group 22 C, Sub-Group 3. Copies of the Theta Smut Letter and Chi Iota Campus Informer can be found in Box 1 of Record Group 1 C, Sub-Group 35, including information on the Papish Free Speech controversy in Box 2. Copies of the Chi Iota Campus Informer can also be found in Box 7 of Record Group 1 C, Sub-Group 33, Series 1. Other related collections are Record Group 4 UW, Sub-Group 65, Series 1 and Record Group 4 UW, Sub-Group 39, Series 1. Box 3 of Record Group 4 UW, Sub-Group 81 contains a report on services provided to black press, 1972, see The Issue in this Record Group. Follow this link for Minority Student Publications at Record Group 22 C, Sub-Group 19. More collections related to minority student unrest can be found in the University Archives' Vertical File.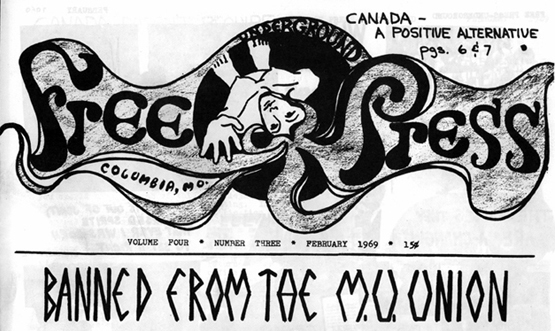 Top half of the Free Press Underground cover which contains the controversial cartoon in the lower half of the page (lower half not shown). This issue was originally banned by the Board of Curators.
(University Archives, C:22/3/6)

Series Descriptions:

This Record Sub-Group is divided into eleven record series, with each publication comprising its own series and arranged there under chronologically. Series One contains supplementary information and materials relating to "underground" student publications at MU and also includes a microfilm collection of these publications gathered from the holdings of the University Archives, Ellis Library Special Collections, and the UM Library Depository.

Inventory

Series One - Supplementary Material

Item 1 - "Underground Newspaper Collection: UM Libraries" is a listing of the underground newspaper holdings for the University of Missouri libraries, listing 120 publications, from MU as well as elsewhere in the United States and Canada.

Item 2 - "Underground Student Publications" is a microfilmed collection of the combined holdings of Ellis Library Special Collections, University Archives, and the UM Library Depository. Click here to view the microfilm index.

Item 3 - "Student Unrest" is a 1967 report to the MU Board of Curators concerning student unrest and possible plans of action in response to it.

Series Two - Anarchy, A Journal of Desire Armed
August, 1985 (No. 6)
Summer, 1986 (No. 12)
Summer, 1988 (No. 16)
January-February, 1990 (No. 23) [A19-53]
March-April, 1990 (No. 24) [A19-53]
Fall, 1991 (No. 30) [A19-53]
Summer, 1992 (No. 33) [A19-53]
Winter, 1993 (No. 35)
Spring, 1993 (No. 36) [A19-53]
Summer, 1993 (No. 37) [A19-53]
Fall, 1993 (No. 38) [A19-53]
Spring-Summer, 1994 (No. 40) [A19-53]
Spring-Summer, 1997 (No. 43) [A19-53]
Fall-Winter, 1997-1998 (No. 44) [A19-53]
Spring-Summer, 1998 (No. 45) [A19-53]
Spring-Summer, 1999 (No. 47) [A19-53]
Fall-Winter, 2000-2001 (No. 50) [A19-53]

Series Three - New Morning
Volume 1 - January 11, 1971 (No. 2)
No date (contains a letter to the editor dated March 19, 1971)
Volume 2 - ca. March, 1971 (No. 5)
Volume 2 - April 19-23, 1971 (No. 6)
Volume 2 - ca. May or June, 1971 (No. 8)
Volume 2 - no date (No. 11) [SPEC-MU]

Series Four - The Issue, or Issue
Volume 1, February-May, 1971 (Nos. 3-9, 11 and 13)
No date, ca 197l
Volume 2, 1971 (Nos. 2-3, 5-9, 12-13)
Volume 3, 1972 (No. 1)

Series Five - Free Press Underground

Item 1 - "The Case of the 12 Letter Word", an article from the Missouri Alumnus, May 1969. This article discusses the free speech controversy which triggered a debate on campus and negative reactions by Governor Warren Hearnes and Dean of Students Jack Matthews concerning a cartoon on the cover of the February, 1969 edition of Free Press Underground

Volume 3, October, 1967 (No. 1)
Volume 4, February, 1969 (No. 3) containing the cover that started the Papish free speech court case (3 copies)
Volume 4, May, 1969 (No. 6) [SPEC-MU]
Volume 5, October 1969 (No. 2) [SPEC-MU]
Volume 5, December 1969 (No. 4) [SPEC-MU]

Series Six - Columbia Free Press

Item 1 - A copy of a 1966 letter to the dean of students explaining "the history, organization, and purposes of the Columbia Free Press" from William Lee Valentine, an associate editor of the paper at the time. The archives possesses an original copy of the letter (C:1/71/1, Box 1, FF 4)

Volume 1, May 10, 1966 (No. 1), (2 copies)
Volume 1, May 26, 1966 (No. 2)
Volume 1, July 18, 1966 (No. 3), (2 copies)
Volume 2, October, 1966 (No. 1), (2 copies)
Volume 2, November, 1966 (No. 2), (2 copies) [SPEC-MU]
Volume 2, January, 1967 (No. 3)
Volume 2, March, 1967 (No. 4), (2 copies)
Volume 2, April, 1967 (No. 5), (2 copies)
Volume 2, May, 1967 (No. 6) [SPEC-MU]
Mimeographed edition, ca. 1971, which had to be made this way since Columbia printers refused to publish the controversial publication

Series Seven - Catalyst

Item 1 - Photocopied news clipping from the Columbia Free Press recounting the three month, three issue history of Catalyst, and how a ban from sales on the MU campus led to its demise

Volume 1, March 25, 1963 (No. 1)
Volume 1, April, 1963 (No. 2)

Series Eight - The Peace Action, (an anti-war newsletter published in order to prevent United States involvement in the second World War)
Volume 1, March 20, 1935 (No. 1)
Volume 1, April 10, 1935 (No. 11)

Series Nine - The Yammering Buffoon, (a monthly newsletter "spotlighting the best literary works, opinion columns by leading intellectuals, environmental news and tips, social satire, as well as various other topics which tickle our fancy.")
Volume 6, March 1995 (No. 3)

Series Ten - Community Sun, (intended to be come out every two weeks, the Community Sun was published by "a small group of people who've come together to do a newspaper in hopes of creating a greater sense of community here in Columbia, and, further, to provide an open circuit for commnication.")
Volume 1, Number 1, January 14, 1975 [A19-53]
Volume 1, Number 2, January 28, 1975 [A19-53]
Volume 1, Number 3, February 25, 1975 [A19-53]
Volume 1, Number 4, March 25, 1975 [A19-53]


Series Eleven - Alternative Press Review, ("APR is here to help you find your way through the obscurity and confusion of the low-budget, do-it-yourself publishing world," by publishing "a wide variety of the best essays from radical zines, tabloids, books and magazines ... [and] a potpourri of short and lively article excerpts in each issue, along with reviews, commentary and columns on the alternative press scene, as well as other alternative media."
Fall 1993 (Volume 1, Number 1) [A19-53]
Winter 1994 (Volume 1, Number 2) [A19-53]
Winter 1995 (Volume 2, Number 1) [A19-53]
Summer 1995 (Volume 2, Number 2) [A19-53]
Spring/Summer 1997 (Volume 2, Number 4) [A19-53]