Walker On Campus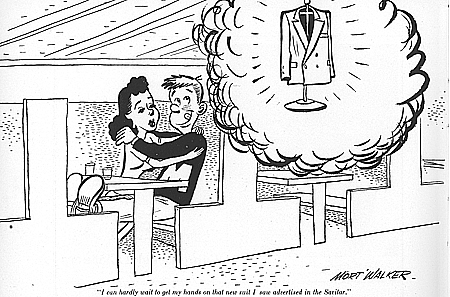 Mort Walker came to MU in 1942 after completing a year at Kansas City Junior College. He attended MU for only one semester before he was drafted. After his discharge in 1946 Walker returned to the MU campus with engineering credits, but his heart was in Journalism. Walker's refusal to take a basic prerequisite Journalism course, however, resulted in his getting booted out of the Journalism School. This didn't prevent him from continuing his active involvement in student publications. He served as Editor and contributor of a student publication then called the ShowMe, whose staff meetings were often held in the spacious booths of "The Shack." Walker also illustrated some ShowMe covers, both while a student and after he left MU. Walker was also on the staff that produced the college yearbook, The Savitar. Walker graduated in 1948 with an A.B. in Arts and Science.
Walker often featured "The Shack" in his illustrations. The character that became Beetle Bailey© was created in 1950 in New York. Although Beetle® wasn't born on the MU campus, Walker did have "The Shack," in mind while developing the character that became Beetle Bailey.®
Walker has won many national and international awards for his cartoons. His contributions have also been recognized on the MU campus. Walker was awarded the Citation of Merit from the College of Arts and Science in 1967. His fraternity, Kappa Sigma, honored him as their Man of the Year in 1989 and Walker returned to campus in 1992 as the William Francis English Scholar-in-Residence.
For inquiries about "The Shack" drawing, please contact Joe Franke, Macon, MO


Sources: The Joe Franke Collection; Jane Espy Meyer Memorabilia Collection; The University Archives Vertical Files.

---



Home




Copyright © Curators of the University of Missouri 2000
Published by: University Archives muarchives.missouri.edu/
Created by LJ Divine
Revised: 16 May 2022
URL: https://muarchives.missouri.edu/beetle-three.html

An equal opportunity/access/affirmative action/pro-disabled and veteran employer.
DMCA and other copyright information.