The Shack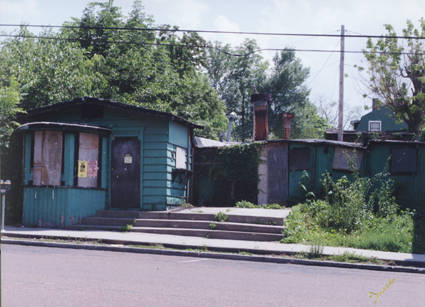 Photograph courtesy of Bill Franke, Macon, Missouri
Student hangouts change with the times. The Shack evolved from a simple sandwich cart in the 1920's to a dimly lit bar in the 1980's.
In 1921, the Chandler Davis Family parked a house car across from Jesse Hall and began serving sandwiches to the college population. Bits and pieces added to the structure eventually incorporated the original house car into a building which became known as "The Davis Tea Room". By 1929, it was a popular place for "jelly dates," short between classes dates for coffee or soda, changing to beer or soda after classes. During Prohibition, "near beer" was served.
"The Tea Room" closed in 1933 but was reopened by Vernon and Mary Blackmore and Jack Armel in the mid 1930's and renamed "Jack's Shack." The Blackmores later became the sole owners and the name was shortened to "The Shack." Joe Franke purchased "The Shack." in 1962. The unique atmosphere of "The Shack," characterized by booths and walls filled with generations of carved initials and grafitti was memorialized by Walker in the Beetle Bailey® comic strip.
The doors of "The Shack" were permanently closed May 18,1984, and, in February of 1988, the University of Missouri acquired the property from Franke for a proposed alumni center and pedestrian walkway. Fire consumed the vacant building on Halloween night, 1988. The cause of the fire was never determined.
The Reynolds Alumni Center, dedicated on April 10, 1992, now stands on the corner of Conley and Maryland Avenues. The original site of "The Shack" is now the circular driveway in front of the Alumni Center. The Beetle Bailey® sculpture was moved from Pocket Park to it's permanent location directly east of the Alumni Center driveway in 1999. Finally, Beetle® and his booth occupy a prominent spot on the MU campus close to the site that served as inspiration for the goldbricking character. Welcome home, Beetle Bailey®!
For inquires about "The Shack" drawing please contact Joe Franke, Columbia, MO

Sources: The Joe Franke Collection; Jane Espy Meyer Memorabilia Collection; The University Archives Vertical Files.

---


Home




Copyright © Curators of the University of Missouri 2000
Published by: University Archives muarchives.missouri.edu/
Created by LJ Divine
Revised: 18 January 2007
URL: https://muarchives.missouri.edu/beetle-four.html
An equal opportunity/access/affirmative action/pro-disabled and veteran employer.
DMCA and other copyright information.