WELCOME BACK, BEETLE BAILEY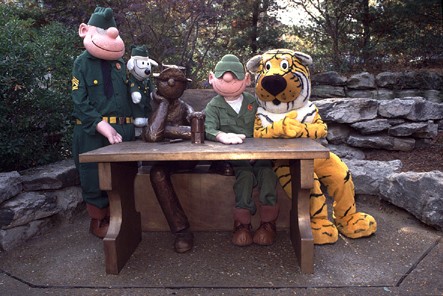 Photograph courtesy of MU Publications
Beetle Bailey is back on campus
Beetle Bailey returned to the MU Campus permanently with the unveiling of a bronze life-size sculputure. Mort Walker designed the statue and worked with his son Neal on the sculpting. The sculpture was unveiled October 23, 1992 during the Homecoming Celebrations which concurred with Walkers appearance on campus as the 1992 William Francis English Scholar-in-Residence.
The concept for the sculpture was a similar "participation" sculpture of Abraham Lincoln that Walker saw in Stamford, Conneticut and features Beetle loafing in a booth similar to those that were found in "The Shack." Walker often inscribes names of college chums and personages on Beetle's comic strip booth so it is fitting that the sculpture is covered by graffiti. For $250, alumni were given the opportunity to have their initials permanently carved on Beetle 's booth. This raised half of the $40,000 necessary for the creation of the sculpture. The other half was contributed by Mort Walker and his publisher, King Features.
Beetle was relocated to his present site beside the Alumni Center on June 4, 1999, close to the original site of "The Shack." Here, Beetle® can forever lounge, a fitting tribute to "The Shack."
For inquires about "The Shack." drawing please contact Joe Franke, Columbia, MO

Sources: The Joe Franke Collection; Jane Espy Meyer Memorabilia Collection; The University Archives Vertical Files.

---



Home




Copyright © Curators of the University of Missouri 2000
Published by: University Archives muarchives.missouri.edu/
Created by LJ Divine
Revised: 28 August 2000
URL: https://muarchives.missouri.edu/beetle-two.html
An equal opportunity/access/affirmative action/pro-disabled and veteran employer.
DMCA and other copyright information.