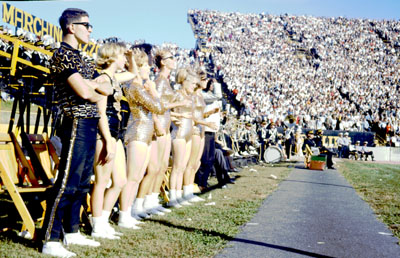 Band Day at MU Football Game, 1965
(University Archives, C:1/40/1)

University Publications Policy
The University Archives acquires the official publications of the University of Missouri - Columbia and the central administration of the University of Missouri System as part of its mandate to collect, preserve, and make accessible to the public the permanent records and documents of the University of Missouri at Columbia and the University of Missouri System.

Board of Curators Policy on Publication
Publications Acquired:
All publications produced by departments, schools, colleges, and organizations affiliated with the university are acquired by the Archives. These include catalogs, newsletters, brochures, bulletins, newspapers, directories, faculty and student handbooks, schedules of classes, University of Missouri Press monographs and series, and calendars of special occasions or celebrations. The copies of publications acquired by the Archives are considered to be the record copy, and are therefore considered permanent.
Newsletters, flyers, and meeting announcements published by county extension offices are not maintained by the Archives; the individual extension offices are encouraged to maintain the record copy of their respective newsletters.
Annual and biennial reports are acquired, but maintained as part of their respective record group collection.
Microfilming:
Certain publications may be microfilmed. This will be determined on a case by case basis by the University Archives staff.
Researcher Use:
All publications are available to researchers during normal business hours, provided that the researchers have signed the Registration Log and the Rules of Use and Consent Form. Copying of publications is permitted; photocopy and citation rules found in the "Guidelines for Using Materials in the University Archives" (here) and in the "Duplication Service and Usage Policies" (here) apply. Use of a publication may be restricted by the archives staff if it is determined that the condition of that publication is such that further use would damage the item.