Tigers Thru the Hoop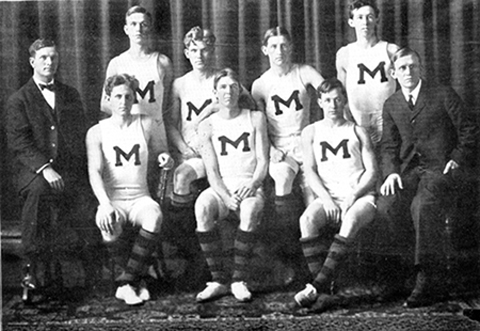 The First Tiger Team, 1907
(University Archives, 1907 Savitar)
In 1891, Dr. John Naismith, a Canadian at the University of Kansas, invented the game of basketball. Naismith invented the game at the Lutheran Training School of the YMCA in Springfield, Massachusetts, prior to his employment at the University of Kansas. He developed the game as a workout for athletes between fall and spring sports. The game was mainly played at YMCAs and as intramural games.
At Missouri State University (University of Missouri) before 1907, the only way to play basketball was to be involved in intramurals or to be a woman. The women of MSU had begun to play intercollegiate games in 1898--a full nine years before a men's team was established.
The game of basketball was seen as a "girl's" sport by many before the men's team was founded. In 1907, five young men from Joplin, Missouri, decided to start a basketball team for MSU--Hezekiah "Zeke" Henley, Carl Ristine, John Gardner, Frank Burress, and Lloyd Driver. A sixth starter, Frank Bernet from St. Louis, and some walk-on players were added, and the team was born.
The next step after gathering a team was appointing a coach. Isadore Anderson, a graduate of MU, was attending the medical school and had previous basketball and coaching experience. Anderson was chosen because he had one year of YMCA basketball in Kansas City along with one year of physical education studies at the Chicago YMCA training school. He also had experience coaching football and track, so he knew how to talk to players.
The first season saw more wins than loses (record 10-6). On January 12, 1907, the Tigers won their first game against Central College of Fayette with a score of 65 to 5. The Tigers also went on to beat the University of Kansas both times the teams met (34-31 and 34-12). In the first season of organized play, the men's team did not just play other universities, but athletic clubs as well--whoever was organized, the Tigers played.
During this season, the enthusisam for the game of basketball was not as intense as it is now but was growing. People were beginning to see it less as a "girl's" sport and more as another men's sport to cheer.
LET'S GO TIGERS!!!




Copyright © Curators of the University of Missouri 1997 - 2002
Published by: University Archives muarchives.missouri.edu/
Originally Prepared by Emily McIlvoy: March 2001
Revised: 18 August 2017
URL: https://muarchives.missouri.edu/tigerhoops1.html
An equal opportunity/access/affirmative action/pro-disabled and veteran employer.
DMCA and other copyright information.