Coaches of the Hardwood
In the University of Missouri's history, there have been eighteen coaches for the men's basketball team.
Axel Isadore Anderson..........1906-07 with a record of 10-6
A.M. Ebright.................1907-08 with a record of 8-10
Guy Lowman................1908-10 (2 seasons) with an overall record of 19-15
Chester Brewer.............1910-11 with a record of 5-7
O.F. Field.....................1911-14 (3 seasons) with an overall record of 22-27
Eugene Van Gent..........1914-16 (2 seasons) with an overall record of 21-9
John Miller....................1916-17 and 1918-19 with an overall record of 25-7
Walter Meanwell coached the Tigers for two different seasons: 1917-18 and 1919-20. His record for both years was 17-1 with an overall record of 34-2. Coach Meanwell led Missouri to its first ever conference title. He is in the Basketball Hall of Fame for his 246-99 overall record and as one of the top 25 coaches in college basketball history.
Craig Ruby...................1920-22 (2 seasons) with an overall record of 33-2
George Bond................1922-26 (4 seasons) with an overall record of 34-38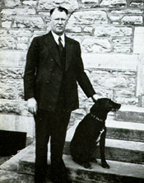 George Edwards
(University Archives, 1938 Savitar)
George Edwards coached at MU from 1926 to 1946 with an overall record of 181-172. While at Missouri, he also coached the tennis and golf teams at various points in his career. He also served as Athletic Director and Sports Information Director at MU. In 1946, he wrote the Basketball Coaches Creed which was adopted by the National Association of Basketball Coaches (NABC) after their formation in the mid-1930s. Coach Edwards led the Tigers to three conference titles and took the Tigers to their first NCAA tournament in 1944.
Wilbur "Sparky" Stalcup coached at MU for 16 seasons, 1946-62, with an overall record of 195-179. The greatest mark Sparky made on MU basketball was recruiting Norm Stewart.
Bob Vanatta..................1962-67 (5 seasons) with an overall record of 42-80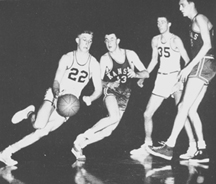 Norm Stewart on the Court as a Player
(University Archives, 1954 Savitar)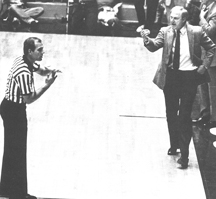 "Stormin" Norm Stewart on the Court as a Coach
(University Archives, 1984 Savitar)
Norm Stewart came to MU in 1967 and stayed until 1999; in his 32 seasons, he had an overall record of 634-333. Stewart began his coaching career as an assistant coach under his own former coach, Wilbur Stalcup. Then he became head coach at Northern Iowa for six seasons before coming back to Missouri. During his time coaching the Tigers, Stewart won eight Big Eight Conference Championships and six conference tournament titles. He also led two teams to the Elite Eight round of the NCAA Tournament--most recently the Tigers of the 1993-94 season, who had a perfect 14-0 record.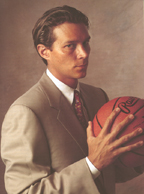 Quin Snyder
(University Archives, C:0/3/2, Box 6, Mizzou, Vol.88)
Quin Snyder came to Missouri in 1999 after being an associate head coach at Duke University. He started for the Duke Blue Devils for three years, and saw three Final Fours (1986, 1988, 1989). Synder's first year as the Tiger's head coach saw a trip to the NCAA Tournament. Snyder coached the Tigers for seven seasons, leading the Tigers to six post-season appearances, four NCAA tournaments and one Elite 8 appearance. Snyder resigned in the middle of the 2006 season, leaving Melvin Watkins as interim head coach for the remainder of the season. Snyder left Mizzou with a record of 116-80.
Mike Anderson
(MU Athletics website)

Mike Anderson started his head coaching career at University of Alabama, Birmingham from 2002-2006, leading the Blazers to three straight NCAA tournament appearances. Anderson won "Coach of the Year" in 2004 for his performance with the UAB Blazers. Once at Mizzou, Anderson led Mizzou to six NCAA tournament appearances with an overall record of 111-57. In the 2009 season, MU appeared in the Elite 8 and had two players receive awards for their performances, JT Tiller won the Defensive Player of the Year and Matt Lawrence won the 6th Man of the Year. Anderson left MU in 2011, accepting the head coaching position at the University of Arkansas.
Frank Haith
(MU Athletics website)

Frank Haith came to Mizzou after being the head coach of the University of Miami, Florida from 2004-2011. In 2012, Haith led the Tigers to a 30-5 record, winning more games than any first year coach in Mizzou?s history and leading the Tigers to their fourth consecutive NCAA tournament. Haith won four awards for his outstanding coaching performance: Big 12 Coach of the Year, District IV Coach of the Year, the Henry Iba National Coach of the Year, and the 2012 Associated Press Coach of the Year. In Haith?s three seasons as head coach, the Tigers had an overall record of 76-28 in three seasons and the Tigers made two appearances in the NCAA tournament. Haith reached 50 wins in two seasons, faster than any other coach in MU history. Haith announced in April, 2014 that he accepted the head coaching position for the University of Tulsa Golden Hurricane.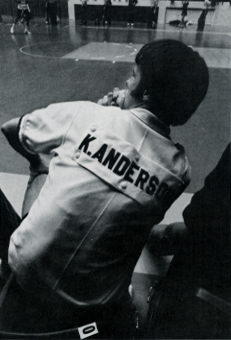 Kim Anderson as a student
(University Archives, Savitar 1977)

Kim Anderson
(MU Athletics website)

Kim Anderson was named head coach in April, 2014. Prior to coming to Mizzou, Anderson coached the University of Central Missouri (UCM) Mules for 12 seasons, during which he won the NCAA Division II Championship in 2013-2014. Anderson left UCM as the winningest coach with an overall record of 274-94, with three seasons with over 30 wins and seven seasons with 20 or more wins. Anderson is an MU graduate, earning his bachelor?s degree in education in 1979, and his masters in 1981. Anderson played center for the Tigers from 1973-1977, and was named the Big 8 Conference Player of the Year in 1977. When Kim graduated MU, he was sixth on the all-time point scorer list (1289) and fifth on the all-time rebound list (675). Anderson has been an assistant coach at Mizzou for 11 seasons in two stints, from 1982-85, and from 1991-99.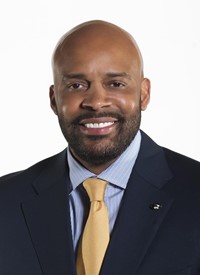 Cuonzo Martin
(MU Athletics website)

Cuonzo Martin was introduced as head coach of the Tigers in March, 2017. Martin previously coached at the University of California for three seasons where he finished with a record of 62-39. Prior to Cal, Martin spent time at Tennessee and Missouri State as head coach, and at Purdue as an assistant coach. Martin is a native of East St. Louis, Illinois and played four years of college basketball at Purdue, where he was one of the top scorers in school history with 1,666 points. Martin has also played four years in the NBA, playing for the Atlanta Hawks, Milwaukee Bucks, and Vancouver Grizzlies.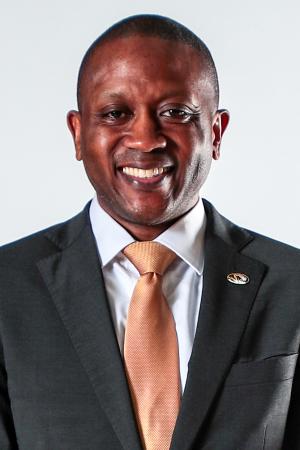 Cuonzo Martin
(MU Athletics website, 2023)

Dennis Gates became head coach of the Tigers in March, 2022. Gates previously coached at Cleveland State University from 2019 until 2022. Prior to Cleveland State, Gates worked as an assistant coach at Florida State University. Gates played collegiate basketball at the University of California.




Copyright © Curators of the University of Missouri 1997 - 2002
Published by: University Archives muarchives.missouri.edu/
Originally Prepared by Emily McIlvoy: March 2001
Revised: 27 February 2023
URL: https://muarchives.missouri.edu/tigercoaches.html
An equal opportunity/access/affirmative action/pro-disabled and veteran employer.
DMCA and other copyright information.