This document serves as a letter to the future from the members of the Twilight lodge. The letter provides a brief description of the hospital, ceremony proceedings, and purpose of the hospital.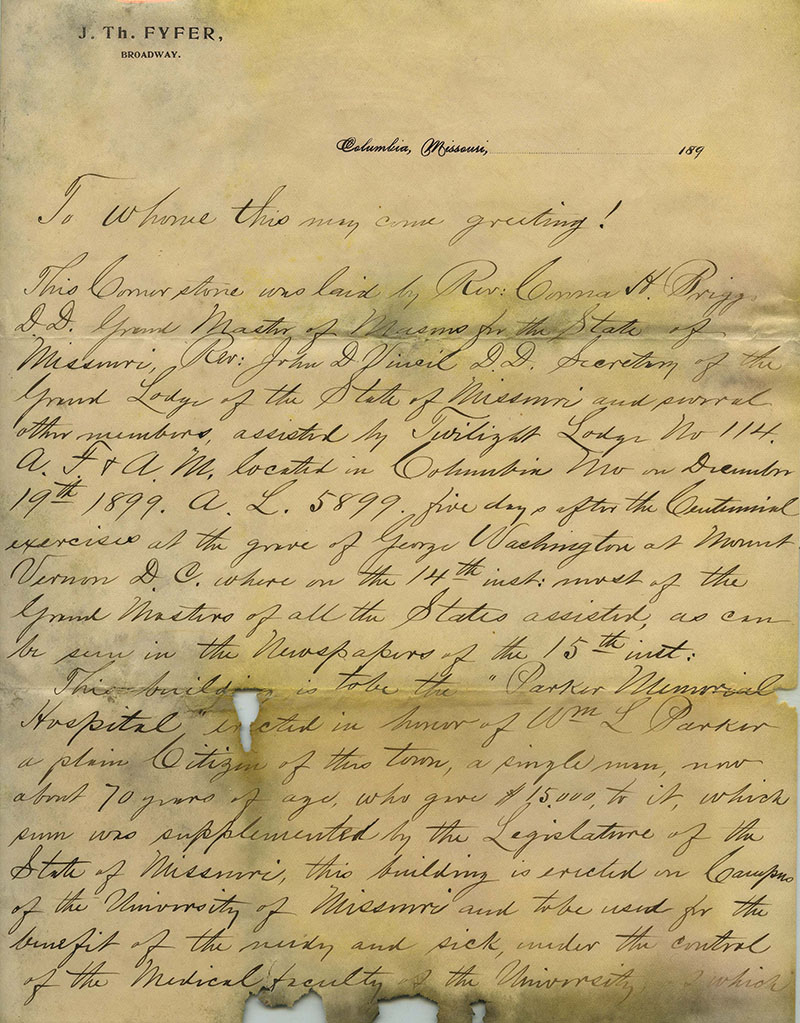 Sheet 1
[C:0/45/11 OSB 1]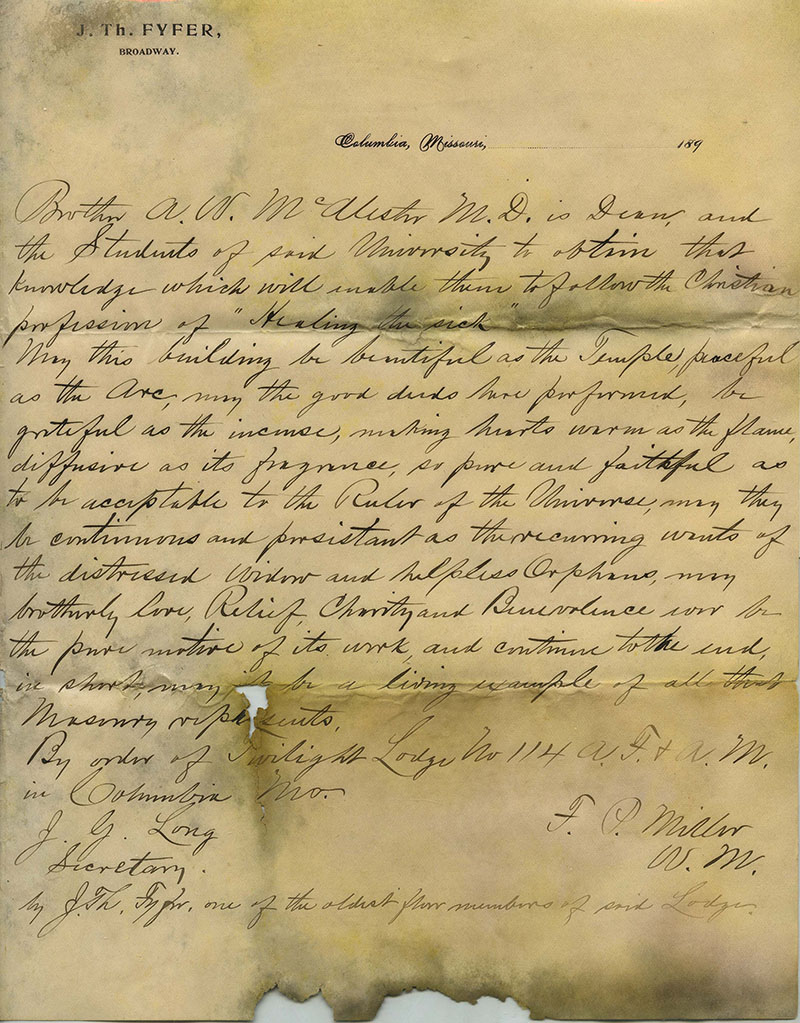 Sheet 2
[C:0/45/11 OSB 1]
Transcription SHEET 1 To whome this may come greeting! This Cornerstone was laid by Rev. Corona H. Briggs D.D. Grand Master of Masons for the State of Missouri, Rev. John D. Vincil D.D. Secretary of the Grand Lodge of the State of Missouri and several other members, assisted by Twilight Lodge No. 114. A. F. & A. M. located in Columbia, Mo on December 19th, 1899. A. L. 5899. five days after the Centennial exercises at the grave of George Washington at Mount Vernon D. C. where on the 14th inst. most of the Grand Masters of all the States assisted, as can be seen in the newspapers of the 15th inst. This building is to be the "Parker Memorial Hospital" erected in the honor of Wm L Parker a plain Citizen of this town, a single man, now about 70 years of age, who gave $15,000 to it, which sum who supplemented by the Legislature of the State of Missouri, this building is erected on Campus of the University of Missouri and to be used for the benefit of the needy and sick, under the control of the medical faculty of the University, of which SHEET 2 Brother A.W. McAlester M.D. is Dean and the Students of said University to obtain that knowledge which will enable them to follow the Christian professionalism of "Healing the sick" May this building be beautiful as the Temple, peaceful as the Arc, may the good deeds here performed, be grateful as the incense, making hearts warm as the flame, diffusive as its fragrance, so pure and faithful as to be acceptable to the Ruler of the Universe, may they be continuous and persistant as the recurring wants unto of the distressed widow and helpless Orphans, may brotherly love, Relief, Charity and Benevolence ever be the pure motive of its work, and continue to the end, in short, may it be a living example of all that Masonry represents. By order of the Twilight Lodge No 114 A.F.&A.M. in Columbia Mo. J.G. Long&nbsp&nbsp&nbsp&nbsp&nbsp&nbsp&nbsp&nbsp&nbsp&nbsp&nbsp&nbsp&nbsp&nbsp&nbsp&nbsp&nbsp&nbsp&nbsp&nbsp&nbspF.P. Miller Secretary&nbsp&nbsp&nbsp&nbsp&nbsp&nbsp&nbsp&nbsp&nbsp&nbsp&nbsp&nbsp&nbsp&nbsp&nbsp&nbsp&nbsp&nbsp&nbsp&nbspW.M. By J.TH Fyfer, one of the oldest fellow [?] members of said Lodge.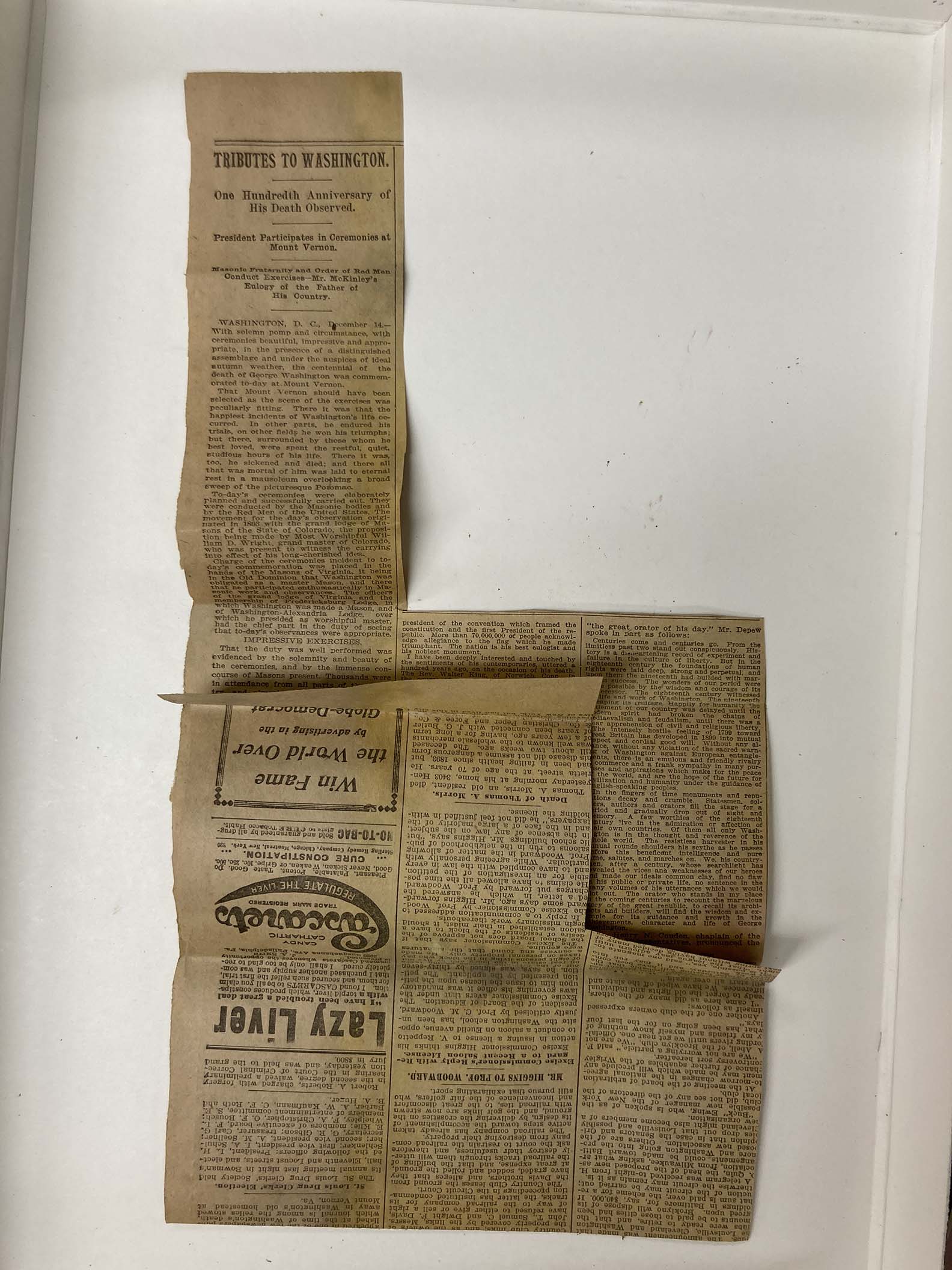 Newspaper clipping about a George Washington tribute from a St. Louis newspaper, 1899, found alongside the resolution.
[C:0/45/11 OSF 1]