Missouri Tiger
Baseball Coaches
A.M. Ebright..........1906-1908 with a record of 34-23-2
Guy Lowman..........1909-1910 with a record of 20-11-1
Chester Brewer
During his years at the University of Missouri, Chester Brewer fulfilled many roles. He was hired as Athletic Director in 1910. He wasted little time in leaving his mark at the University, as he was one of the founding members of the M Men's Club. He founded the club on the eve of the 1911 Missouri-Kansas football game, and the organization became the sponsor for intramural sports championships at the University. He was also the coach of the 1911 baseball team, which had an 8-3 record. He assumed the leadership of the baseball team a second time from 1914-1917 and achieved a 49-15-3 record. He remained at the University until 1917 and at different periods coached football, basketball, and track.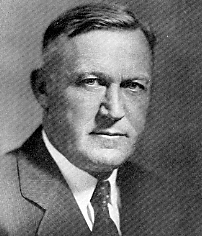 1934 Savitar pg. 174

He left the University at the end of the 1917 school year to serve in the Great War. He spent the next year directing training camp activities at universities around the country. He returned to his alma mater, Michigan Agricultural College, after the war. The University of Missouri then called upon him a second time. He was named Athletic Director and Professor of Physical Education in 1923. His second tenure as Athletic Director lasted until 1935. During these twelve years of leadership, he helped oversee the construction of Brewer Field House, which was named for him on February 8, 1930.

He coached the Tiger baseball team one final time from 1933-1934 and finished with a 12-17 record. He remained with the University as Professor of Physical Education until his death in 1953. His final record as baseball coach was 69-32-3.


O.F. Field..........1912-1913 with a record of 20-12-2

John Miller.........1918-1921 with a record of 30-16-1

Jerry Jones.........1922 with a record of 9-5

Hank Garrity........1923-1924 with a record of 15-22

Harry Kipke.........1925 with a record of 9-8

Jack Crangle........1926-1932 with a record of 54-55


Anton Stankowski
1936 Savitar pg. 224

Anton Stankowski's career at the University of Missouri began as a student. In spite of his diminutive size, 5'7" and 138 lbs, he was quarterback of the 1916 football team. He left MU for two years and served in the Great War. He returned to the University in 1919, resuming his studies. He was once again the quarterback of the football team and named captain of the 1919 team; this team won the Missouri Valley Conference Championship.

He graduated with a Bachelor of Science in 1924 and two years later, was hired by the University as an Instructor of Physical Education and Intramural Director. While he coached the 1935-1936 baseball team, they amassed a record of 16-17. He remained at the University until 1965 when he became Professor Emeritus of Physical Education. His contributions were memorialized in 1996 with the construction of the Stankowski Outdoor Recreation Complex.

John Simmons

John Simmons was born in Lancaster, Missouri and was hired by the University in 1937. He led Mizzou to a Big Six Conference Championship in 1941. Baseball was suspended in 1944-1945 and Coach Simmons served in the Navy during this time. Following his discharge from the Navy, he returned to Mizzou and led the baseball team in an era of unparalleled success. He also served as Assistant Football Coach and Chief Scout until 1957. Under Simmons' leadership, the Tigers won eleven Conference Championships and finished second eight times. The team went to six College World Series and finished second three times. In addition, they won the National Championship in 1954. Simmons was named the National Coach of the Year in 1954 and upon his retirement from coaching in 1973, he was inducted into the College Baseball Hall of Fame. When he retired, he was the all-time winningest coach in Missouri baseball history with a record of 481 victories, 294 losses, and 3 ties.
1942 Savitar pg. 308
Gene McArtor
1974 Savitar pg. 179
When Coach Simmons retired, the program was taken over by a former player, Gene McArtor. During his senior year, McArtor helped lead the team to a Big 8 Title, a District V Championship, and he was also team captain, led the team in RBI's, and named all Big 8. McArtor, born and raised in Missouri, graduated from the University of Missouri in 1963. He returned to the University in 1969 to pursue his Ph.D. in Education and served as graduate assistant to Coach Simmons.
He was named coach in 1974 and led the tigers until 1994. He coached Missouri to two Big 8 Conference titles, one regular season title, and took six different teams to NCAA regional play. His success was not limited to coaching the Tigers. He was the Chairman of the NCAA Baseball Committee from 1987-1992, Vice President of the American Baseball Coach's Association in 1987, and President of the Association in 1991. He retired as Missouri baseball coach in 1994 as the winningest coach in Missouri baseball history with a record of 733-430-3. He was inducted into the American Baseball Coach's Association Hall of Fame in 1993. He also received the organization's highest honor in 1997, the Lefty Gomez Award. This award is given to an individual who has distinguished himself among his peers and contributed significantly to the game of baseball locally, nationally, and internationally. His number was retired in 1994 and adorns the left field wall at Taylor Stadium.
Tim Jamieson
Tim Jamieson was born in Columbia, Missouri. He attended the University of New Orleans where he starred as the catcher, helping to lead the team to three different NCAA play-off appearances. He worked as Assistant Coach for his alma mater from 1982-1988. He joined the University of Missouri baseball staff in 1988 as Pitching Coach and Recruiting Coordinator. He acted in these capacities until the retirement of Gene McArtor in 1994. He has served as the Head Coach of the team from 1995 to the present (as of 2002) with a record of 257-189-2. In his second year, he was named Big 8 Coach of the Year and led the MU Tigers to a NCAA Midwest Regional Appearance. In 1997, he oversaw the Tigers move into the Big 12. The Tigers finished the 2002 Season with a 24-29 mark and the coaching record of Jamieson is now 250-204-1.

1996 Savitar pg. 166

Coaches

Champions

All-Americans

Professionals

Hall of Fame

Back to Title Page
Copyright © Curators of the University of Missouri 1997 & 2002
Published by: University Archives muarchives.missouri.edu/
Originally Prepared by Blain Cerney: July 2002
Revised: 18 January 2007
URL: https://muarchives.missouri.edu/baseball1.html

An equal opportunity/access/affirmative action/pro-disabled and veteran employer.
DMCA and other copyright information.