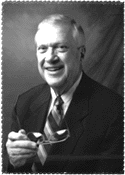 Richard Wallace, 1997 - 2004
During Wallace's tenure, UMC's research efforts have grown significantly, with partnerships and large grants from several organizations, including the National Science Foundation and the European Union.
Private gifts in support of this excellence have increased for the fourth consecutive fiscal year in 1997-1998 to more than $36 million -- the largest amount of private giving in Mizzou's history.
Manuel Pacheco and Elson Floyd were UM System Presidents during Chancellor Wallace's tenure.