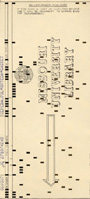 An example of a punch card used in the MU Libraries through the 1980s.
(Ellis Library)
On 1 April, 1947, Ralph Halsted Parker became Director of Libraries at the University. One of his significant accomplishments was to open the stacks to all patrons, a policy which remains in place to this day. Parker and the Library Committee also adopted the Library of Congress classification system (replacing the Dewey Decimal system) and full-scale systematic reclassification began in September of 1961. More than 25,000 volumes were reclassified during the remainder of the fiscal year. One of the books acquired that year was Frank F. Stephens's A History of the University of Missouri published by the University of Missouri Press-of which Parker spent half the year as director-and it became the Library's millionth accession.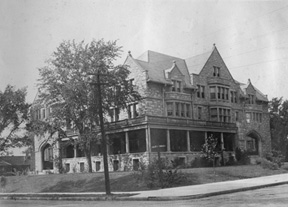 The YMCA served as a social and religious center on the University of Missouri campus. Unfortunately, this structure was sold for about $14,000 as a result of the Depression.
(University Archives, McFadden Family Collection, C:0/3/7, Album 1)
By the summer of 1963, the Library was able to process new acquisitions so efficiently within the Library of Congress system that there were few new titles left uncatalogued.
Part of the reason for successfully managing the increase in acquisitions and circulation -350,000 volumes circulated in 1962/63, 100,000 more than just a decade earlier-was Parker's insistence on incorporating mechanical (and ultimately computer) automation into standard library processes. Known as the 'Father of Library Automation' because of his pioneering implementation of punched-card circulation at the University of Texas, Parker expanded the use of punched cards at the University of Missouri.
~ Listen to Excerpts of Interviews with Ralph Parker ~
As a result of Parker's successful experiments with library automation, he and the University of Missouri Library achieved worldwide recognition and interest. As he noted in the Report of the Librarian for 1961/62, "So great has been the interest among librarians in automation of records that there has been a continuous stream of visitors to our library. Librarians have come from almost every state of the Union and from some half dozen foreign countries." A few years later, together with Frederick G. Kilgour, Parker was asked to judge two options (either microfilm-based or computer printout) for making a book catalogue of the holdings of academic libraries in Ohio. Instead, Kilgour and Parker suggested establishing "an effective, shared-cataloguing program based on a central computer store containing a catalogue for the current holdings of Ohio college libraries." This system would eventually become OCLC, the world's largest consortium, now sharing catalogue records with 43,559 libraries in 86 countries.

Sphaera Mundi was written by Joannes de Sacro Bosco, one of the founders of Oxford University. This edition was published in 1569 and served as a textbook for astronomy.
(Special Collections, Ellis Library)

Conclusion


Computerized information and shared cataloging defy more than geographical boundaries. The goal of the library at Alexandria was to become a universal library, collecting written materials from all known civilizations. Although the Egyptians might search every ship that sailed into the harbor of Alexandria, travel and trade with countless scholars and merchants, and confiscate or copy all available materials, they were bound to miss a few works. Digitization continues and expands the work of the learned librarians and scholars of Alexandria, gathering materials and information not previously seen and sharing beyond a local audience. University Archives has created this digital exhibit as an illustration of the unwavering philosophy of librarianship-sharing knowledge and creativity-only the means have changed.


The Navigator was heralded as the 3 millionth volume of the MU Libraries. One of the fascinating aspects of this 1817 edition was the description of Lewis and Clark's expedition in Missouri.
(Special Collections, Ellis Library)

Sources Consulted for this exhibit:


Beginnings of Libraries by Richardson; Canfora, The Vanished Library; Kallimachos written by Blum and translated by Wellisch; Thompson, The End of Libraries; Illuminated Manuscripts by Janice Anderson. The St. Louis Republican April 17, 1849; Missouri Statesman March 30, 1849, April 20, 1849; "Papers and Proceedings of the Twenty-Second General Meeting of the American Library Association held at Montreal, Canada June 7-12, 1900" published by the American Library Association, 1900; University Archives Vertical Files: Libraries, Ellis Library, Buildings, Landmarks, and Construction-Civil War Damage by Federal Troops, and Campus History; University Archives UW 2/1/3 1841, C:1/141/24 (A91-73) Box 2, Item, C:22/4/1 (A78-60; A79-32), C:1/11/1, UW:1/1/2 Box 1 FF1; Viles, The University of Missouri (46-47, 64-65, 75, 83-84, 106, 150, 163-164, 189, 206-207, 234, 254, 263, 268, 311, 316, 393, 431, 438, 451-452); Stephens, A History of the University of Missouri (78, 110-112, 154, 259, 333, 377, 478, 632); H.O. Severance, History of the Library of the University of Missouri; DeWeese, June LaFollette, History of the Library, University of Missouri-Columbia, 1928-1946, and DeWeese, The History of the University of Missouri-Columbia Library, 1989; Frances McKee Hanna (compiler) of Henry Ormal Severance, Librarian 1907-1937; Annual Reports 1856, 1861; Handbook of the Library, 1912, 1914, 1915; Reports of the Librarian 1900-1944; The Missouri Alumnus vol. 6, No. 14, vol. 55 No. 4; Columbia Missourian, "University Columns Stand 102 Years;" Reflections on the Columns; Report to the Committee of Librarians of the Ohio College Association, 1965, published in Collected Papers of Frederick G. Kilgour: OCLC Years, Lois L. Yoakam, editor, (Dublin, Ohio: OCLC Online Computer Library Center, Inc., 1984): 1-7; Parker, Ralph H. "The Punched Card Method in Circulation Work." Library Journal. LXI (1936): 903-905; Parker, Library Applications of Punched Cards: A Description of Mechanical Systems. Chicago: American Library Association, 1952; Parker, Automated Catalog Card Production System Manual. Columbia: University of Missouri Library, 1967.