Memorial Stadium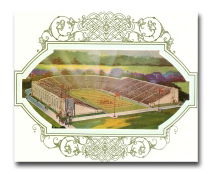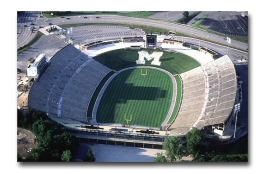 Memorial Stadium then and now. [Left] Rendering of the stadium from the 1925 Savitar (Courtesy of University Archives, University of Missouri) [Right] The stadium as seen today.

Date designed: 1925
Date constructed: 1926
Date of dedication: November 20, 1926
Architectural consultant: Jamieson & Spearl
Alternate Name: Faurot Field
Named in honor of those Missouri students that died in World War I. In 1972 the playing field was named for Don Faurot, former head football coach (1935-1956).
For more information on the history of Memorial Stadium, please see the online exhibit hosted by MUtigers.com.

This project was originally developed with support from the Institute of Museum and Library Services under the provisions of the Library Services and Technology Act as administered by the state of Missouri.