Parker Hall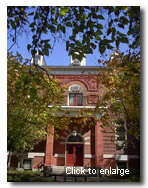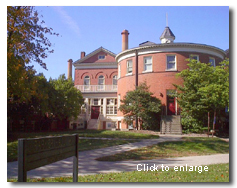 [Left] Entrance of Parker Hall. [Right] The back of Parker Hall and Busch auditorium.

Date designed: 1899
Date constructed: 1899-1901
Date of Laying of Cornerstone: December 19, 1899
Architectural consultant: Thomas Nolan; Columbia, MO
Named after: William L. Parker (Columbia businessman, Civil War veteran, and donor) and Adolphus Busch, 1839-1913 (founder of Anheuser-Busch breweries and donor)
Historical/alternate names: Parker Memorial Hospital, Memorial Hospital, Busch Auditorium
Counseling Center web site [hyperlink via Internet Archive] for more information and history on Parker Hall.

This project was originally developed with support from the Institute of Museum and Library Services under the provisions of the Library Services and Technology Act as administered by the state of Missouri.