Laws Observatory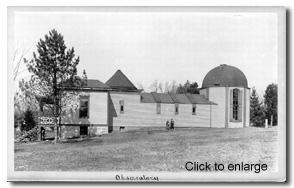 Photograph of Laws Observatory (Courtesy of University Archives, University of Missouri, C:20/8/2)

Date designed: 1879
Date constructed: 1880
Date demolished: 1919
Named after: Samuel S. Laws, University president 1876-1889, who donated $2000 of his own money to move observatory telescope and begin construction of a new observatory.
timeline for Laws Observatory from the Central Missouri Astronomical Association [via the Internet Archive (http://archive.org)].

This project was originally developed with support from the Institute of Museum and Library Services under the provisions of the Library Services and Technology Act as administered by the state of Missouri.