Academic Hall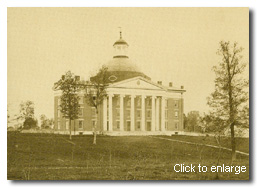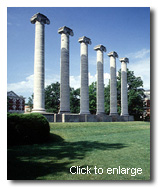 [Left] Academic Hall as seen before the fire that destroyed the building in 1892 (Courtesy of University Archives, University of Missouri: Academic Hall Vertical File). [Right] The remaining columns as seen today.

Date designed: unknown
Date constructed: 1840
Year of dedication: 1843
Architectural consultant: A. Stephen Hills
Historical/alternate names: Old Academic Hall (as opposed to New Academic Hall, now known as Jesse Hall, constructed after the fire.) Please visit the UMC Archives' online exhibit "Y1.9K: Mizzou in 1900" for some contextual history about Academic Hall and the Columns.

This project was originally developed with support from the Institute of Museum and Library Services under the provisions of the Library Services and Technology Act as administered by the state of Missouri.