Search
Holdings:
* UM-System
* Columbia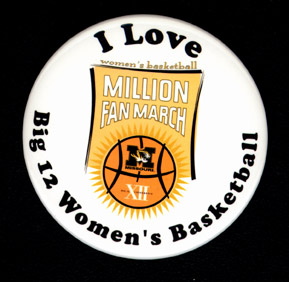 Big 12 Women's Basketball Million Fan March Button
Record Group: 31 C
Record Sub-Group: 19
Records Title: Athletics; Intercollegiate; Women's Basketball Publications and Memorabilia
Dates: 2001
Volume: 1/10 cubic foot, 0.10 linear foot
Scope and Content Note:
This Record Sub-Group contains publications and memorabilia of the University of Missouri Women's Basketball Team. It contains one button.
Series 1 - C:31/00/9 (A01-46)
This Series holds a button given out at the February 13 University of Missouri Women's Basketball game against the University of Nebraska-Lincoln (2001), promoting the Big 12 Conference Women's Basketball Million Fan March.
(OSB, B3A, B2, 1)
Restrictions Note: The Archives of the University of Missouri-Columbia is required by law and Board of Curator's policy to restrict access to some files and information. Student records are held as confidential under the Federal Educational Rights and Privacy Act of 1974 and by University policy. Faculty promotion and tenure records and Academic Personnel files are restricted for 75 years, or the lifetime of the individual. All grievance, disciplinary, and medical records are treated as confidential files.