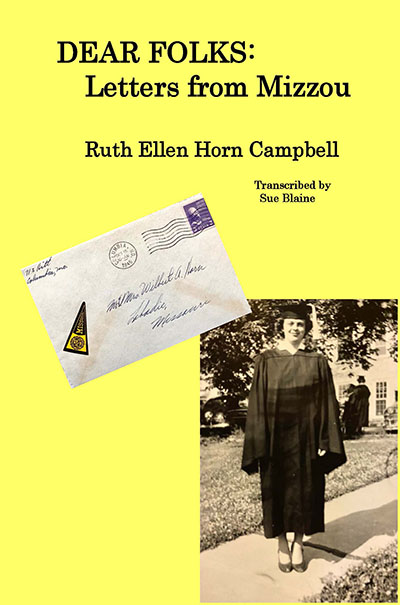 C:22/20/2
Cover of Ruth Ellen Horn Campbell's 2021 book
Dear Folks: Letters from Mizzou
Record Group: 22 C
Record Sub-Group: 8
Records Title: UMC; Student Life and Activities; Memoirs and Manuscripts
Dates: 1899-1966
Volume: 2 and 1/3 cubic feet, 2.92 linear feet
Scope and Content Note
This Record Sub-Group holds manuscripts and memoirs of student life at the University of Missouri-Columbia prepared by MU alumni. Included are autobiographical manuscripts, student diaries, manuscript histories, and other papers relating to life as a student on the MU campus.
Series Descriptions:
Series 1. - C:22/2/1
This Series contains an autobiographical manuscript written by Lyndon B. Phifer, a 1912 graduate of the University of Missouri. Together with his descriptions of student life at MU in the early 1900s, Phifer includes details of his life before and after attending the University.
(1/6 c.f., UMLD1)
Series 2.- C:22/2/2 (A80-54)
This Series holds a photocopy of Emile Dudley Vogt's student diary. Vogt's diary covers the three month period from April through June of 1899, during which time he attended the University of Missouri.
(Env., Small Holdings Box 7)
Series 3.- C:22/2/3 (A82-67)
This Series contains the memoirs of MU graduate Fred W. Koenig. Though some space is devoted to Koenig's student life at MU, the bulk of this manuscript is devoted to his experiences as a soldier and prisoner of war during World War II (including his participation in the "Bataan Death March").
(1/6 c.f., UMLD1)
Series 4. - C:22/2/4 (A84-4)
This Series holds Hazel Hoffman Perryman's brief manuscript history of the founding and early years of the Mortar Board, Alumnae Chapter on the University of Missouri-Columbia campus (ca. 1916-1935).
(Env., Small Holdings Box 6)
Note to Researcher: For additional records of the MU Mortar Board chapter, see C:22/18/1.
Series 5. - C:22/2/5 (A89-38)
This Series contains course materials gathered by Mary Knight while a Nursing student at the University of Missouri-Columbia (ca. 1961-1966). Included are Knight's handwritten lecture notes as well as exercises, examinations, course schedules, handouts, note cards, and reading assignments.
(1 c.f., 033784)
Series 6. - C:22/20/1 (A88-51)
This Series holds microfilmed copies of correspondence between members of the Schlotzhauer family of Pilot Grove Missouri. Letters pertain to life in central Missouri during the period from 1849 though 1906, including commentary and information concerning the University of Missouri.
(MFR, MFC)
Series 7. - C:22/20/2 (A23-39)
This Series contains contains letters and postcards from MU alumna Ruth Ellen Campbell (nee Horn) to her family in Labadie, Missouri, (1943-1949). As noted in Campbell's 2021 book Dear Folks: Letters from Mizzou, "[s]tarting in 1943, Ruth sent numerous cards and letters home, providing some insight into both the routine and unusual events of her life starting with two years of summer church conference/camp followed by her college years and ending with the six months following college graduation." Most of the correspondence was addressed to her parents ("Dear Folks") Gertrude and Wilbert Horn, and was collected and saved by her mother. Series 7 also contains a printed copy and digital files of Campbell's book (Dear Folks: Letters from Mizzou).
(1 c.f., UMLD1)
Note to Researcher: Ruth Ellen Horn received a Bachelor of Science degree in Education (Home Economics) in 1949 and a Masters of Education (Practical Arts, Vocational and Technical Education) in 1975 from the University of Missouri. During her undergraduate years in Columbia, Horn lived in the Templecrone cooperative.
Note to Archivist: The items in Series 7 were donated by Ruth Ellen Campbell in October 2022. The donation was facilitated by Campbell's daughter Sue Blaine who transcribed all the correspondence and wrote the introduction for Dear Folks: Letters from Mizzou.
The box list for this Series is available online. It can be accessed by following this link.
Restrictions Note: The Archives of the University of Missouri-Columbia is required by law and Board of Curator's policy to restrict access to some files and information. Student records are held as confidential under the Federal Educational Rights and Privacy Act of 1974 and by University policy. Faculty promotion and tenure records and Academic Personnel files are restricted for 75 years, or the lifetime of the individual. All grievance, disciplinary, and medical records are treated as confidential files. Consultations with legal counsel, both in-house and external, are protected by the attorney/client privilege and will not be released.