Search
Holdings:
* UM-System
* Columbia


Call Number:
(C:22/1/3)
Box 1 - UMLD1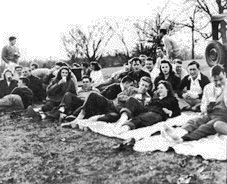 MU Student Picnic, 1947
(University Archives, C:22/1/3, Box 1, Savitar)
Record Group: 22 C
Record Sub-Group: 6
Records Title: UMC; Student Life and Activities; Yearbooks; Savitar; Photographic Negatives
Dates: 1891-1979
Volume: 1/6 cubic foot, 0.21 linear foot
Scope and Content Note
This Record Sub-Group contains negatives of photographs which originally appeared in University of Missouri-Columbia yearbooks, the Savitar and the Index. Included in this Sub-Group are a dozen student photographs of UMC Graduate, Sam Walton, as well as photographs of Norm Stewart (long-term UMC basketball coach) as a UMC college player, negative of the first Homecoming game and the 1900 football team.
Note to Researcher: The name, "Smallpox" Glee Club (FF 2), refers to the 1914 University of Missouri Glee Club, of which all members were quarantined when 2 developed smallpox during a trip to the west coast. Their quarantine began on a train car in Albuquerque, New Mexico, and continued through a period of time in a tent on the Parker Memorial Hospital grounds at the University of Missouri. The group held a 50-year reunion in 1964.
Series Descriptions
This Sub-Group is not divided into separate record series. Arrangement within the Sub-Group is chronological. Negative and print sizes are given in inches unless otherwise indicated.
Inventory
Box 1
FF 1 -
1891, print, 3x5, The Index illustration
1891, negative, 4x5, The Index illustration
1894, negative, 4x5, Banjo, Mandolin, Glee Club
1896, negative, 4x5, Cadet Band
1896, print, 4x6.5, Eugene Field
1896, negative, 4x5, Eugene Field
1897, negative, 4x5, Medical Class
1897, negative, 4x5, Baseball Team
1899, negative, 4x5, Jesse Hall Auditorium Interior
1899, negative, 35mm, H.T. Cory
1899, negative, 35mm, Members of Kappa Kappa Gamma Sorority
FF 2 -
1901, negative 4x5, Stonewall J. Walton
1908, negative 4x5, The Under Classman drawing
1908, print 5x7, The Under Classman drawing
1911, negative 4x5, University Symphony Orchestra
1911, negative 4x5, First Homecoming, Missouri vs. Kansas
1912, negative 4x5, Louie Skidmore
1914, negative 4x5, "Smallpox" Glee Club [see Note to Researcher]
1914, print 5x7, "Smallpox" Glee Club
1914, negative 4x5, cartoon, Homer Croy Traveling to Read Hall Dance
1914, print 5x7, cartoon, Homer Croy Traveling to Read Hall Dance
1914, print 5x7, cartoon, Homer Croy Attending Read Hall Dance
n.d., print 5x7, Jesse Hall auditorium
FF 3 -
1920, negative, 4x5, Robert Simpson
1921, negative, 4x5, Herbert Blumer
1922, negative, 4x5, Herbert Blumer
1922, negative, 4x5, Dr. Pommer
1922, negative, 4x5, Edith Hedges Matzke, M.D.
1923, negative, 4x5, Herbert Bunker
1923, negative, 35mm, Farmers Fair, "Minstrel Float"
1923, negative, 35mm, "Tigerette," Emilie Baca
1924, negative, 35mm, Art Bond (Halfback)
1924, negative, 4x5, Don Faurot
1926, negative, 4x5, College of Arts and Science Faculty
1926, negative, 4x5, Dean Quarles
1926, negative, 4x5, Edgar W. Lindenmeyer (MU All-American)
1927, negative, 4x5, Jack Matthews in track clothes
1927, negative, 4x5, Jack Matthews as member of Farm House fraternity
1927, negative, 4x5, Dean Jack Matthews as a student
1928, negative, 35mm, John Waldorf (Fullback)
FF 4 -
1930, negative, 4x5, Karl Goetz (cheerleader)
1930, negative, 4x5, Edna St. Vincent Millay
1930, negative, 4x5, Bus to Kansas City
1930, negative, 4x5, Downtown Theater
1930, negative, 4x5, Street Downtown
1930, negative, 4x5, "The News Room" (the Missourian)
1930, negative, 4x5, "Tennessee" Williams with Alpha Tau Omega
1931, negative, 4x5, "Tennessee" Williams
1930-1933, negative, 35mm, Francis Farmer
1933, negative, 4x5, Virginia Babb
1933, negative, 35mm, Norman 0. Wagner (Football Team Captain)
1934, negative, 4x5, John E. Paxton
1937, negative, 4x5, Sam Walton (Freshmen Tiger Battery)
1938, negative, 4x5, Sam Walton (Sophomore Yearbook Picture)
1938, negative, 35mm, Munski Track
1938, negative, 4x5, Sam Walton (Beta Theta Pi)
1938, negative, 4x5, Sam Walton (Sophomore Tiger Battery)
1939, negative, 4x5, Sam Walton (Junior Yearbook Picture)
1939, negative, 4x5, Sam Walton (Burrall)
1939, negative, 4x5, Sam Walton (Junior Artillery)
1939, negative, 4x5, Emilee Burnett
FF 5 -
1940, negative, 4x5, Sam Walton (Senior Yearbook Picture)
1940, negative, 4x5, Sam Walton (Savitar Governing Board)
1940, negative, 4x5, Sam Walton (Q.E.B.H.)
1940, negative, 4x5, Sam Walton (Blue Key)
1940, negative, 4x5, Sam Walton (Burrall)
1940, negative, 4x5, Sam Walton B.M.O.C. (Big Man on Campus)
1941, negative, 35mm, "Back to School"
1941, negative, 35mm, Sophomores and Freshmen Interacting
1941, negative, 35mm, "Sorority Rushing"
1946, negative, 35mm, Football team in Dallas before New Year's Day game
1947, negative and print, 4x5, Student Picnic
1949, negative, 35mm, Dick Ault (Track Team)
1949, negative, 4x5, "Ag Paddle" Burning
FF 6 -
1950, negative, 4x5, Senior Veterinary Class
1951, negative, 4x5, Dean A.H. Groth - Veterinary School
1952, negative, 4x5, Veterinary Medicine Class
1953, negative, 35mm, Bob Schoomnaker (Co-captain Football Team)
1954, negative, 4x5, Norm Stewart
1954, negative, 4x5, Norm Stewart (KU game)
1955, negative, 35mm, Football Coaching Staff
1955, negative, 4x5, Norm Stewart
1956, negative, 4x5, Norm Stewart
1956, negative, 4x5, Norm Stewart
1957, negative, 4x5, Don Faurot (Last Game, MU vs. KU)
1957, negative, 4x5, Walter W. Hamilton
1958, negative, 4x5, Football
1959, negative, 35mm, Jack Matthews
1959, negative and print, 4x5, Crowning Homecoming Queen
FF 7 -
1960, negative, 35mm, Unidentified Man
1963, negative, 35mm, Barnwarming
1969, negative, 35mm, Diana Grampe, Engineering Queen
1969, negative, 35mm, "Dorm Mixer"
1965, negative, 35mm, Football Coach
1965, negative, 4x5, Veterinary Student with Woman and Dog (Clinical Practice)
1967, negative, 35mm, Football
1968, negative, 4x5, Track Team "Tiger Milers"
1968, negative, 4x5, Glenn Ogden
1968, negative, 4x5, Johnson and Ogden
1968, negative, 4x5, Students on "Quad"
1969, negative, 4x5, Track Team
1970, negative, 4x5, Track Team
FF 8 -
1970, negative, 4x5, Coach Tom Botts
1973, negative, 35mm, Class in Auditorium
1973, negative, 35mm, "Marching Mizzou" Members
1973, negative, 35mm, Students on the Shuttle Bus
1974, negative, 35mm, Football
1974, negative, 4x5, "First Day"
1979, negative, 35mm, Football