Record Group: 22 C
Record Sub-Group: 27
Records Title: UMC; Student Life and Activities; The Gerald McKinney Petty Collection
Dates: 1919-1922
Volume: 1/6 cubic foot, 0.21 linear foot
Scope and Content Note
(A00-66)
This Sub-Group consists of a photograph scrapbook compiled by Gerald McKinney Petty, 1922 alumnus of the University of Missouri-Columbia College of Agriculture. The photographs in the Sub-Group are all black-and-white and are mainly of the Farmer's Fair and Farmer's Barnwarming, events sponsored by the Agriculture Club. Buildings on both the Red and White campuses are represented and some aerial shots of the campuses are also included. This collection also includes three loose photographs and one picture postcard.
Note to Researcher: Information included on the back of the photographs is indicated by italics.
Series Descriptions:
This Sub-Group is not divided into separate record series. Arrangement within this Sub-Group follows the original page order Petty's scrapbook.
Inventory
Page 1
Image 1 - Farmer's Barnwarming, interior of Rothwell Gymnasium, south end, shows coronation chair on its base of straw, 1920)
Image 2 - Entrance to Farmer's 1920 Barnwarming, exterior entrance to Rothwell Gymnasium with illuminated sign, 1920)
Page 2
Image 1 - Farmer's Barnwarming bonfire, exterior, ca. 1920
Image 2 - Rothwell Gymnasium, exterior, southwest view, boughs for decoration of Farmer's Barnwarming, ca. 1920
Image 3 - Farmer's Barnwarming, interior of Rothwell Gymnasium, north end of 'log loft' where orchestra was located, 1920
Page 3
Image 1 - Exterior view of boughs at the ready for decorating the interior of Rothwell Gymnasium for the Farmer's Barnwarming, ca. 1919
Image 2 - Farmer's Barnwarming, The Well, 10/24/1919
Image 3 - Barnwarming, Entrance to Rothwell Gymnasium, 10/24/1919
Image 4 - Rothwell Gymnasium, interior, decorated with boughs for the Farmer's Barnwarming, ca. 1919
Page 4
Image 1 - Miss Henrietta Stewart being crowned Harvest Queen of the 1920 Annual Farmers' Barnwarming by Dean F. B. Mumford, 10/29/1920
Page 5
Image 1 - Minstrel cast on stage, interior, ca. 1920
Image 2 - Parade entry, motorcycle, title indiscernible, ca. 1920
Image 3 - Parade entry, tractor driven, entitled "Circus Day 1951" exhibiting a caged horse, ca. 1920
Image 4 - Parade entry, tractor driven, featuring a plow being pulled by a Cletrac tractor, ca. 1921
Page 6
Image 1 - Unidentified activity featuring a boat crossing an unidentied body of water by means of a rope stretched across, ca. 1920
Image 2 - Parade float, horse drawn, title indiscernible, ca. 1920
Image 3 - Parade float, horse drawn, covered wagon entitled "ZA ZA," ca. 1920
Image 4 - Parade entry, minstrels pushing a buggy, ca. 1920
Page 7
Image 1 - Large group of unidentified costumed women holding a variety of Greek letters, interior make-shift stage setting, ca. 1920
Image 2 - Parade float entitled "Farm Management," horse drawn, ca. 1920
Image 3 - Parade entry, motorized, entitled "Free Wind, By Academ Press," ca. 1920
Image 4 - Parade float, horse drawn, entitled "Whos Pres. of West Campus," ca. 1920
Page 8
Image 1 - Large group of unidentified people, men attired in women's clothing, exterior, ca. 1920
Image 2 - A parade participant carrying a length of wood over his shoulder lettered with the words "A modern heating system," ca. 1920
Image 3 - Farmer's Fair, booths and exhibits, overhead, exterior, 1921
Image 4 - Parade float, horse drawn, entitled "Ag Girls at Play," ca. 1920
Page 9
Image 1 - Parade entries, plows pulled by livestock, posed, ca. 1920
Image 2 - Parade entry, steers pulling plow, ca. 1920
Image 3 - Parade float, second of two racks, horse drawn, entitled "From Producer to Consumer," portrays the consumer and features a butcher and a couple sitting at a table, pairs with Image 4, ca. 1920
Image 4 - Parade float, horse drawn, first of two racks, entitled "From Producer to Consumer," carrying livestock, pairs with Image 3, ca. 1920
Page 10
Image 1 - Parade float, horse drawn, entitled "Follies," posed, ca.1920
Image 2 - Parade float, horse drawn, entitled "Follies," same float as Image 1 this same page, ca. 1920
Image 3 - Parade entry, horse drawn, cart entitled "Fair Rooters," ca. 1920
Image 4 - Parade entry, couple in stocks, entitled "We Shimmied Watch Your Step," ca. 1920
Page 11
Image 1 - Parade float, horse drawn, entitled "Growing Peaches in Missouri," ca. 1920
Image 2 - Parade float, horse drawn, no title, ca. 1920
Image 3 - Parade entry, "frontier" couple pushing child in wheelbarrow, no title, ca. 1920
Image 4 - Parade float, horse drawn, entitled "Worlds Salvation Farm Crops," ca. 1920
Page 12
Image 1 - Parade float, horse drawn, entitled "Mo. Butterflies," posed, ca. 1920
Image 2 - Parade float, horse drawn, entitled "Mo. Butterflies," same float as Image 1 this same page, ca. 1920
Image 3 - Parade float, horse drawn, with cow, entitled "Only Legal Brewer of 4% Beverage," ca. 1920
Image 4 - Parade entry, man walking with cow, ca. 1920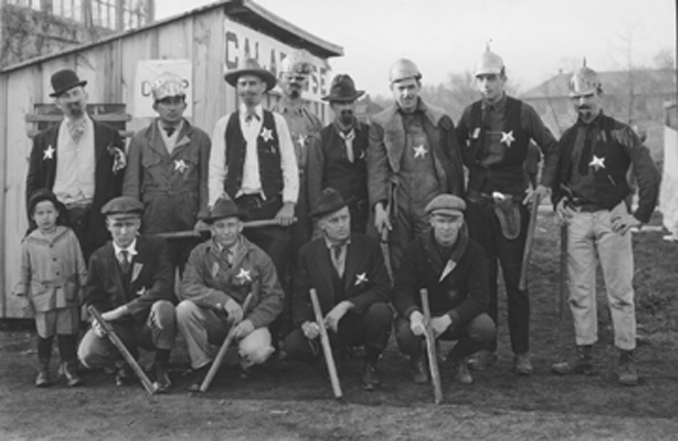 Unidentified men
(University Archives, C:22/8/22, Box 1, Page 13, Image 1)
Page 13
Image 1 - Unidentified group of men, some costumed in spiked helmets and star badges, armed with billy clubs, 1920
Image 2 - Parade entrant, man wearing a skirt, carrying placard reading "Most Popular Savitar Queen John Caskey Jr.," ca. 1920
Image 3 - Parade entry, mule, ca. 1920
Image 4 - Parade entry, motorized, vehicle entitled "Police Patrol" with individual wearing "Tea Hound" sign, ca. 1920
Page 14
Image 1 - Parade float, horse drawn, entitled "Three Ways of Getting Thru College," ca. 1919
Image 2 - Parade entry, individual wearing a four-sided display entitled "The COLLEGE FARMER, September 1921, Vol. XV, ca. 1919
Image 3 - Parade entry, a horse with decorated mane and tail, ca. 1919
Image 4 - Parade float, horse drawn, entitled "CLEANUP," ca. 1919
Page 15
Image 1 - Parade float, horse drawn, entitled "Making Bayonets Into Plow Shares Vocational Ags," posed, ca. 1919
Image 2 - Parade float, motorized, entitled "What Will Ford Do Next," ca. 1919
Image 3 - Parade float, horse drawn, entitled "Tea," ca. 1919
Image 4 - Parade float, horse drawn, entitled "Making Bayonets into Plow Shares Vocational Ags," same float as in Image 1 this same page, ca. 1919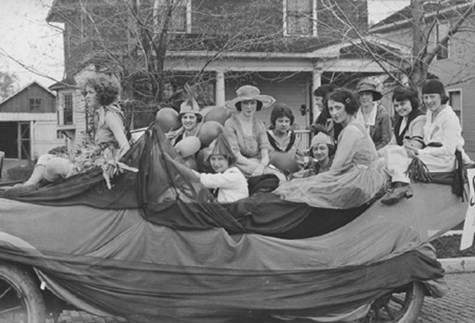 Unidentified Women
(University Archives, C:22/8/22, Box 1, Page 16, Image 1
Page 16
Image 1 - Parade float, motorized, unidentified women in decorated vehicle, posed, ca. 1919
Image 2 - Parade float, motorized, same float as in previous Image, ca. 1919
Image 3 - Parade float, motorized, entitled "See THOSE GIRLS Home Ec. Play," ca. 1919
Image 4 - Parade float, motorized, same float as in previous Image, posed, ca. 1919
Page 17
Image 1 - Entrance to Farmer's Fair, ca. 1919
Image 2 - Parade entry, Marching Band, ca. 1919
Image 3 - Parade entry, individual letters, each hand carried, spelling out "FARMERS," with horseback rider preceding, ca. 1919
Image 4 - Parade entry, individual letters spelling out "FARMERS," same as Image 3, this page, but letters are propped up by individuals, posed, ca. 1920
Page 18
Image 1 - Parade float, horse drawn, manure spreader entitled "Designed for Soils Worn Out By Other Departments," ca. 1919
Image 2 - Parade entry, car, entitled "RS It Is," ca. 1919
Image 3 - Parade entry, horse drawn, manure spreader entitled "Designed for Soils Worn Out By Other Departments," same entry as Image 1, this same page, ca. 1919
Image 4 - Parade entry, horse drawn, manure spreader entitled "Lawyers Method of Spreading Propaganda," ca. 1919
Page 19
Image 1 - Parade entry, horse drawn, covered wagon, complete with dogs and a cow, entitled "How We Moved From Kansas to Missouri 1896 Vocational Ags," ca. 1920
Image 2 - Parade entries, motorized, unidentifiable, ca. 1920
Image 3 - Parade entry, horse drawn, buggy, ca. 1920
Image 4 - Parade float, motorized, entitled "Vocational Teachers Club 1920, ca. 1920
Image 5 - Parade float, horse drawn, entitle "Milk," consisting of two racks hooked together labeled "Consumer" and "Producer," the "Producer" rack has a cow on it and the "Consumer" rack has a calf and people on it, ca. 1920
Page 20
Image 1 - Parade entry, horse drawn buggy, ca. 1920
Image 2 - Parade participants, walking, men dressed as women, ca. 1920
Image 3 - Men on motorized flat boat, unknown body of water, ca. 1920
Image 4 - Parade participants, walking, one couple in Puritan-style dress, ca. 1920
Page 21
Image 1 - Farmer's Fair, Parade float, horse drawn, entitled "MO-LASSES," 4/9/1920
Image 2 - Parade float, horse drawn, partially entitled "Come Back...," ca. 1920
Image 3 - Parade float entitled "Motorized Baby Egg," ca. 1920
Image 4 - Farmer's Fair, parade float, horse drawn, by Poultry Department entitled "Increase Egg Production," 4/9/1920
Page 22
Image 1 -Farmer's Fair, Parade float, motorized, entitled "Vocational Teachers Club 1920," 4/9/1920
Image 2 - Parade float, horse drawn, entitled "Fieldcrops," ca. 1920
Image 3 --Farmer's Fair, Parade float, horse drawn, entitled "Fruit Featuring "Pairs"," side view, 4/9/1920
Image 4 - Farmer's Fair, Parade float, horse-drawn, entitled "Fruit Featuring "Pairs"," rear angle, 4/9/1920
Page 23
Image 1 - Farmer's Fair, "Minstrils," minstrel performers, exterior, 4/9/1920
Image 2 - Parade float, tractor drawn, ca. 1920
Image 3 - Parade float, motorized, entitled "Politics Makes Strange Bedfellows," ca. 1920
Image 4 -Farmer's Fair, Minstrels, interior stage, 4/9/1020
Page 24
Image 1 - Farmer's Fair, group of some parade participants with a variety of placards, some saying "To the Town Dump" and "Absent Minded Prof. Taking His Morning Walk," 4/9/1920
Image 2 - Parade float, horse-drawn, entitled "Home Economics," ca. 1920
Image 3 - Parade entrants: a solo participant wearing a barrel, carrying a placard bearing the words "On Strike," (close up of same individual in group photo, Image 1, on same page); and a front view of float in Image 4, on same page, ca. 1920
Image 4 -Farmer's Fair, parade float, motorized, entitled "These Are Not Chickens But Easter Eggs Because They're Hard Boiled and Painted," 4/9/1920
Page 25
Image 1 - Farmer's Fair, entrance, 4/9/1920
Image 2 - Marching band in parade, front view, ca. 1920
Image 3 - Marching Band in parade, rear view, ca. 1920
Image 4 - Farmer's Fair, overhead view of outdoor booths and crowd, 4/9/1920
Page 26
Image 1 - Farmer's Fair, outdoor, unidentified group of men costumed as sheriffs, deputies and a judge of the Old West, 4/9/1920
Image 2 - Horse-drawn parade float, ca. 1920
Image 3 - Parade motor-car entitled "The Follies," ca. 1920
Image 4 - Farmer's Fair, exterior, unidentified couples dressed for the Dance, 4/9/1920
Page 27
Image 1 - Homecoming Parade, tractor, 11/8/1919
Image 2 - Homecoming Parade, the United States flag carried by Color Guard, 11/8/1919
Image 3 - Homecoming Parade, float, 11/8/1919
Image 4 - Homecoming Parade, float, 11/8/1919
Image 5 - Parade float entitled "Use More Dairy Products," ca. 1919
Image 6 - Parade float, 11/8/1919
Image 7 - Homecoming Parade, float entitled "Spirit University Women," 11/8/1919
Image 8 - Homecoming Parade, float, 11/8/1919
Page 28
Image 1 - Marching band, part of St. Pat's Day Parade, ca. 1920
Image 2 - A bicycle-powered St. Pat's parade float of an airplane entitled "Erin Go Braugh," ca. 1920
Image 3 - Castle in front of the Columns, constructed by students as part of the St. Pat's Day Celebration, ca. 1920
Image 4 - St. Pat, walking in St. Pat's Day parade, ca. 1920
Page 29
Image 1 - Bond, Forward, George Bond, member of 1920 MU basketball team, exterior, 1920
Image 2 - "Pookie" Wackher, Guard, Leslie Wackher, member of 1920 MU basketball team, exterior, 1920
Page 30
Image 1 - Bunker, Guard, Herbert Bunker, member of 1920 MU basketball team, exterior, 1920
Image 2 - "Doc" Coffee, Guard, Ralph Coffey, member of 1920 MU basketball team, exterior, 1920
Page 31
Image 1 - Stadium crowd at Missouri v. University of Kansas football game, 11/25/1920
Image 2 - "Shorty" Williams, Center, George Williams, member of 1920 MU basketball team, exterior, 1920
Page 32
Image 1 - "Bun" Browning, Forward, Arthur Browning, member of 1920 MU basketball team, exterior, 1920
Image 2 - "Pidge" Browning, Forward, George Browning, member of 1920 MU basketball team, exterior, 1920
Page 33
Image 1 - "Scrubby" Hardin, Center, Verne Hardin, member of the 1920 MU football team, exterior, 1920
Image 2 - "Chuck" Lewis, Halfback, Capt., Charles L. Lewis, member of the 1920 MU football team, exterior, 1920
Image 3 - "Al. Goepel, Left End, Alexander Goepel, member of the 1920 MU football team, exterior, 1920
Page 34
Image 1 -Pete Vilkas, Left Guard, Peter Vilkas, member of the 1920 MU football team, exterior, 1920
Image 2 -"Pat" Springate, Left Guard, Raymond Springate, member of the 1920 MU football team, exterior, 1920
Page 35
Image 1 - Machinery Building, State Farm, exterior, 3/3/1920
Image 2 - Stock Judging Building, exterior, ca. 1920
Image 3 - Dairy Building, University Farm, exterior, 3/3/1920
Image 4 - Livestock Pavilion, exterior, ca. 1920
Image 5 - Veterinary Building, exterior, ca. 1920
Image 6 - Livestock Pavilion, interior, dirt floor arena and stands, ca. 1920
Page 36
Image 1 - Power House, State Farm, exterior, 3/3/1920
Image 2 - Cypress, White Campus, 3/3/1920
Image 3 - Roof view of unidentified buildings, ca. 1920
Image 4 - Large group of unidentified men on football field, ca. 1920
Image 5 - Entrance to West Campus, 3/3/1920
Image 6 - Tractor, ca. 1920
Image 7 - Cattle Yard, ca. 1920
Page 37
Image 1 - View south from the Dome, aerial, 3/27/1920
Image 2 - View northeast from the Dome, aerial, 3/27/1920
Image 3 - View northwest from the Dome, aerial, 3/27/1920
Image 4 - View west from the Dome, aerial, 3/27/1920
Page 38
Image 1 - Biology Building, White Campus, exterior, 3/3/1920
Image 2 - Schweitzer Hall, White Campus, exterior, 3/3/1920
Image 3 - Blue Spruce, White Campus, 3/3/1920
Image 4 - Agriculture Building, White Campus, exterior, 3/3/1920
Image 5 - Unidentified tree, winter, ca. 1920
Image 6 - Physics Building, White Campus, 3/3/1920
image 7 - Horticulture Building, White Campus, exterior, 3/3/1920
Page 39
Image 1 - Academic Hall, now known as Jesse Hall, exterior, ca. 1920
Image 2 - Howitzer cannon, 105 mm, ca. 1920
Image 3 - Blacksmithing shop, interior, ca. 1920
Image 4 - View southwest from the Dome, aerial, 3/27/1920
Page 40
Image 1 - View southeast from the Dome, aerial, 3/27/1920
Image 2 - Engineering Hall, exterior, ca. 1920
Image 3 - Manual Arts Building, exterior, 3/3/1920
Image 4 - View east from the Dome, aerial, 3/27/1920
Page 41
Image 1 - The Columns, West Campus, From roof of Academic Hall, aerial, 3/27/1920
Image 2 - View north from the Dome, aerial, 3/27/1920
Image 3 - The Columns, West Campus, 3/3/1920
Image 4 - The Columns, ca. 1920
Page 42
Image 1 - Red Campus, aerial, ca. 1920
Image 2 - White Campus, aerial, ca. 1920
Additional Images
Image 1 - Barnwarming, crowning of the Queen, 1921
Image 2 - Barnwarming, interior, 1921
Image 3 - Barnwarming, display entitled "McBaine General Store," 1921
Image 4 - Barnwarming, postcard featuring the Columns with a large letter mounted on the top of each spelling out "FARMER," 1921