Search

Holdings:
* UM-System
* Columbia

Call Number:
(C:22/14/2)

Box 1-UMLD1
Box 2-UMLD1
Box 3-Ellis

Call Number:
(C:22/14/2a)

MFR 1-MFC
Record Group: 22 C
Record Sub-Group: 20
Records Title: UMC; Student Life and Activities; Memorabilia; Templecrone Cooperative; Administrative Records
Dates: 1947-1984
Volume: 1 cubic foot, 1.25 linear feet; 1 MFR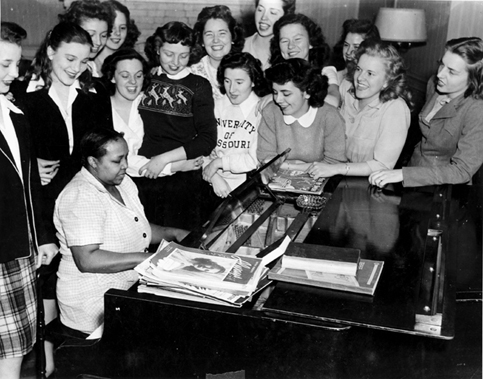 The Women of Templecrone Cooperative Gathered for Some Tunes From their Cook, Florence, 1947
(University Archives, C:22/14/2)
Scope and Content Note
(A88-59)
This Sub-Group contains materials relating to life at Templecrone, a cooperative housing and living unit for women, which was located at 1404 University Avenue. Templecrone and other cooperative housing programs provided a money saving alternative to dormitories and Greek housing by allowing members to share daily chores for lower cost room and board. The women of Templecrone, nicknamed "Cronies," did their own house cleaning, table setting, dishwashing, and yard work. They also conducted initiations and held their own social activities. The collection includes the Pro Forma Degree of Incorporation for Templecrone I, rules and regulations for the house, treasurer's financial reports, minute books of house meetings, and financial records. There are plaques won by Templecrone for homecoming decorations, Red Cross blood drives, Campus Chest, and Quiz Bowl. Photographs from scrapbooks show homecoming decorations, house activities, and initiations. Other entries from scrapbooks contain news clippings, wedding invitations, Senior's Wills, and Christmas cards.
Note to Researcher: Scrapbooks are in very poor condition researchers are strongly encouraged to view the scrapbooks on microfilm.
Series Descriptions:
The Sub-Group is not divided into separate record series.
Inventory
Box 1
FF 1 - Templecrone I - Pro Forma Degree of Incorporation 1949
FF 2 - Rules and Regulations, including rules for initiation, initiation tests, policies and procedures booklets, shopping lists, and meal sign-up lists, ca. 1962-1983
FF 3 - Treasurer's Reports, including list of duties, correspondence, and budgetary statements, 1948-1961 and 1969-1984
FF 4 - House Meeting Minutes, February 27, 1961 - May 4, 1964
FF 5 - House Meeting Minutes, May 4, 1964 - July 16, 1979
FF 6 - House Meeting Minutes, August 27, 1979 - April 18, 1983
FF 7 - Housemother or House Manager Lists of Responsibility and Application Procedures; Application Forms; and Interview Questions, 1958-1971
FF 8 - Register of Expenses and Checks Written, 1971-1972 and 1974-1976
Box 2
FF 1 - Account Books of Money Received, 1974-1976 and 1982
FF 2 - "Cronie's" Account Ledger Sheets of Individual Expenses and Credits, 1968-1975
FF 3 - "Cronie's" Account Ledger Sheets of Individual Expenses and Credits, 1979-1983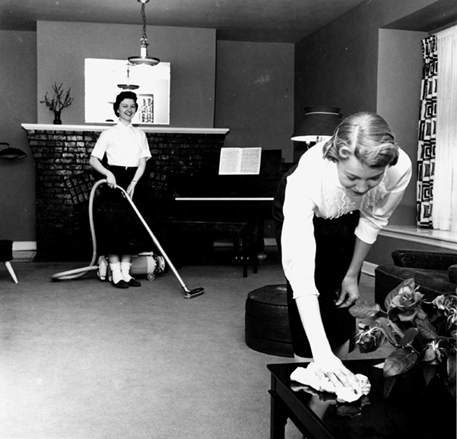 Sharing of chores was a fundamental aspect of the Templecrone experience.
(University Archives, C:22/14/2)

Box 3 - Scrapbooks - All photos and other items have been removed from their original scrapbooks. Contents include photographs of Mizzou Homecoming decorations, Templecrone initiations, meal preparation, banquets, formals and parties, pictures of house mothers, collective photos of the whole house, holiday, wedding, and baby pictures. Additionally, there are invitation to weddings and formals, "Senior's Wills", and Christmas cards. FF 1 - Contents of Scrapbook, 1947-1953

FF 2 - Contents of Scrapbook, 1954-1956

FF 3 - Contents of Scrapbook, 1957-1961

FF 4 - Contents of Scrapbook, 1965-1966

FF 5 - Contents of Scrapbook, 1966-1967

FF 6 - Contents of Scrapbook, 1982

Plaques 1-10 - Awards won by Templecrone for homecoming decorations, Red Cross blood drives, Campus Chest, and Quiz Bowl, 1954-1969

Oversize Folder - Housing Contracts, 1979-1984