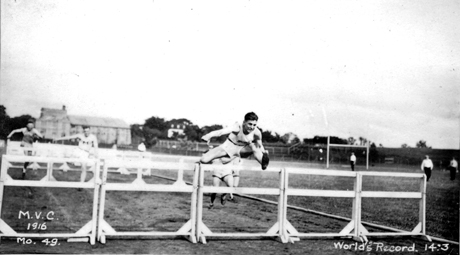 Bob Simpson Breaking World's Record
(University Archives, C:22/8/5)
Record Group: 22 C
Record Sub-Group: 17
Records Title: UMC; Student Life and Activities; Memorabilia; Edwin Shroeder Collection
Dates: 1915-1919
Volume: 1/3 cubic foot, 0.42 linear foot; 1 MFR
Scope and Content Note
(A84-100)
This Sub-Group contains a scrapbook and memorabilia compiled by MU alumnus Edwin Shroeder during his days at the University from 1915 to 1919. Among the items collected are names and addresses of friends, souvenir programs for numerous events, ticket stubs, photos, newspaper articles, student newspaper cartoons, posters, and course examinations. Many of the photos, flyers, and news clippings are of athletic events, most of football, basketball, and track. There are photographs depicting freshman and sophomore activities such as "bag rush" and elections, and a pictorial history of the Francis Quadrangle columns. Other noteworthy items in this Sub-Group are photos of trips to Rocheport and Jefferson City, Missouri, and theater programs with ticket stubs and short reviews.
Note to Researcher: Shroeder's scrapbook is also available on one 35mm microfilm roll (MFR). The microfilm version of the scrapbook, C:22/8/5a, is located in the microfilm cabinet (MFC) in the University Archives Reading Room.
Historical Note:
Bob Simpson is the subject of many of the sports photographs and news clippings. He was an MU track star who broke numerous world's records in hurdles. Simpson also had success abroad, winning fifteen cups and twelve medals in a competition in Stockholm, Sweden. The scrapbook contains a cartoon satirizing his trip overseas. At the time, he was known as "Missouri's Greatest Athlete."
Series Descriptions:
This Record Sub-Group is divided into two record series. Series One contains five individual items of memorabilia. Series Two contains the contents of Edwin Shroeder's scrapbook in page number order.
Inventory
Series One - Memorabilia
FF 1 - (contents removed to OSF 1, 1/3/2011)
FF 2 - One 5 x 7 black and white photo of the Student Council, 1919
FF 3 - One "Missouri Valley Conference" pamphlet, 11th annual meet at Rollins Field, 1918
FF 4 - Various newspaper articles about MU football
FF 5 - One intercollegiate yearly ticket booklet, 1916-1917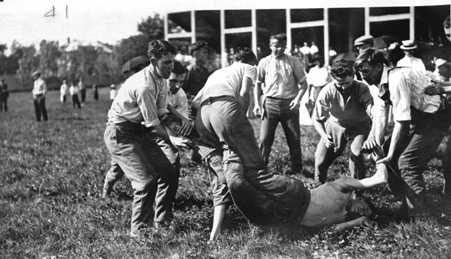 The Last "Bag Rush," 1915
(University Archives, C:22/8/5)

Series Two - Scrapbook Page 1 - Autographs of friends, giving hometown, address, birthday and a word or two

Page 2 - Intercollegiate athletic record 1915-1916, 1916-1917, for basketball, track, football and baseball

Page 3 - Theatres, lectures and entertainment, 1915-1917

Page 4 - Program for the play Flora Bella at Columbia Theatre

Page 5 - Pleasure jaunts to Rocheport and Jefferson City, Missouri, 1916

Page 6 - List of courses and course descriptions

Page 7 - Pictorial history of the Francis Quadrangle columns at MU

Page 8 - Photos of "The Gateway-Old Campus" and "Kansas Mass Meeting, November 24, 1915"

Page 9 - Photos of freshman and sophomores "Bag Rush" and news clippings of the event,1915 (some participants were injured)

Page 10 - Actual piece of the captured bag, September 18, 1915

Page 11 - Photos of Varsity Squad, 1915; Freshman Squad; Board of Strategy, 1915; Coach Van Gent and a small booklet, Missouri-Songs and Yells

Page 12 - Photos of the Oklahoma A&M game and the Washington game at St. Louis; two news articles about the games

Page 13 - Photo of the Oklahoma game and two news articles about the game

Page 14 - Photo and two news articles about football game along with loose news articles.

Page 15 - Photos of "The Drake Victory" and two news articles

Page 16 - One news article "Football Week Program"; Kansas vs. Missouri Thanksgiving Day, November 25, 1915; an usher ribbon; game ticket; and three photos

Page 17 - Photo of the Freshman Squad, 1915; two requisitions for equipment from the Athletic Department; one news article; and one postcard giving notification of spring football practice time

Page 18 - Two large black and white cartoons entitled "Prexy's Food for Freshman"

Page 19 - Two photos of posters, and one small poster "Wee Little Freshman"

Page 20 - One loose news article entitled "Heads Chest Campaign"

Page 21 - Five photos including one of Bob Simpson and one invitation to the new men students reception at the YMCA

Page 22 - Six cut-out newspaper pictures of the 1915-1916 basketball team

Page 23 - Two newspaper ads and two photos: one of the baseball team, the other of the Farmer's Fair, 1916; one ticket to Farmer's Fair; and one small newspaper clipping

Page 24 - One large orange poster listing candidates for freshman offices and three small cards listing candidates for freshman offices

Page 25 - One large white poster and five small cards listing other candidates for freshman offices

Page 26 - Two photos of track events and two news articles

Page 27 - Five photos of track events and one news article

Page 28 - Five photos of track events; one news article; and one ticket stub to the Missouri Valley Conference Meet, 1916

Page 29 - Three photos of MU athletes and one of Coach McMillan

Page 30 - One photo of a poster from the class of 1919; three small photos taken on the walking trip to Rocheport, Missouri; one card listing candidates for sophomore election; one "Welcome Freshman" class of 1919 tag dated 1917; one newspaper photo and caption showing dedication of the Student Union Building; and one typed letter listing the advantages of the proposed Union Building entitled "Talking Points for Membership Solicitors"

Page 31 - Five news articles about football

Page 32 - Two photos including one of a football game, and three news articles on football

Page 33 - One photo of a football game and four news articles

Page 34 - Two photos and three new articles

Page 35 - Two news articles

Page 36 - Front page of and article from The Missouri Alumnus, 1916, and one Missouri and Kansas Football Game Official Score Card, 1916

Page 37 - One news poster from the University Daily Kansan from the University of Kansas, 1916; an advertisement card for "Huskies" (a pharmaceutical product); one game ticket; one cut-out of a paper tiger; one Orpheum Theatre Program and two ticket stubs; and one small news article

Page 38 - Five photos of individual MU football players and one news article

Page 39 - Five photos of individual MU football players

Page 40. - Two news articles entitled, Bob Simpson, Missouri's Greatest Athlete

Page 41 - One newspaper photo of the five-man athletic team that went to Sweden for international competition, pictured are: Fred Murray, Bob Simpson, Jo Loomis, Andy Ward, and Ted Meredith; one news article on Bob Simpson's trip to Sweden including a news photo of trophies and medals; one newspaper cartoon drawn by Fred Murray and given to Bob Simpson on Valentines Day, satirizing their trip to Sweden; and one news photo of Bob Simpson

Page 42 - Two ticket stubs; two news articles; one post card of "The Coats House"; piece of news article; and the Missouri - Kansas Indoor Dual Meet souvenir program, March 16, 1917, at the Convention Hall, Kansas City, Missouri (this program includes a picture of C.L. Brewer entitled "His Last Appearance Here as Athletic Director of MU" and one picture of Dr. J. A. Reilly, Athletic Director of the Kansas City Athletic Club)

Page 43 - One "Orpheum Circuit of Theatres" news and program booklet; three ticket stubs; and three news articles

Page 44. - Two newspaper articles; one photo; MU Tiger's 1917 baseball season score list; and one news photo of Clyde H. Slusher

Page 45 - Four news articles and three news photos of individual team members

Page 46 - Nine small photos of a group of young men

Page 47 - One small billboard; one program from MU Auditorium, 1915-1916; one large news article; one copy of the University Missourian; one program from MU Auditorium, 1915; one typed note to E. Shroeder; and one Columbia Theatre program

Page 48 - Two Columbia Theatre programs; one basketball program of All-Conference Schedules, 1916; an MU Auditorium program, 1915; one Yellowstone National Park brochure; and one Columbia Theatre program

Page 49 - One sheet entitled "Extract from Guard Manual" and a final examination from each of the following subjects: English 1a, General Mathematics, Spanish, History, and General Zoology, all from 1916

Page 50 - Two typed pages mostly in Spanish; final examination in American Government, 1917; one examination in Elementary French; one University of Missouri Bulletin, "Preventative Medicine", 1915; one quiz in Sociology, 1917; one news clipping, ca. 1915-1916; three typed pages in Spanish; and one French exam

Page 51 - Eight news articles on various topics

Page 52 - Six news articles on various topics including: hazing; baseball souvenir score card; one copy of The Banquet News, a publication for Journalism Week; one pamphlet Seventh Annual Journalism Week, May 1, 2, 3, 4 and 5, 1916

Page 53 - Five news articles; one program from the University of Missouri-Columbia Auditorium performance by the New York Symphony Orchestra and Jeff Hofmann, 1915; one program from the University's "Annual May Fete", 1916; one program from Journalism entitled The Yellow Peril, 1916; and one meet schedule from the Missouri Valley Conference Ninth Annual Meet, 1916

Page 54 - Three programs from the Columbia Theatre, 1916 and 1917; one souvenir program from the Fifteenth Annual Missouri - Kansas Indoor Dual Meet, 1918

OSF 1 - One football poster for the Homecoming game, 1915