Among these items in the Sub-Group are photographs of UMC football teams, ca. 1890-1897, views of Francis Quadrangle, Jesse Hall, Memorial Tower construction, general campus views, freshmen hazing and paddle lines, University of Missouri Volunteer Infantry in preparation for service in the Spanish-American War, ca. 1898, and student camping excursions and vacations.
Also included are Adam Hill's "M" certificate as well as other athletic and alumni awards, a copy of the first University of Missouri yearbook, the Index, ca. 1891, histories of athletics at the University of Missouri from 1890 to 1912, and news clips regarding MU football, ca. 1890-1916.
Additionally, this Record Sub-Group contains a scrapbook of photographs collected by Warren Glen Fowler while he was a student at William Jewell College, ca. 1915, and the University of Missouri-Columbia, ca. 1916-1920. The bulk of Fowler's material pertains to UMC student activities, such as Engineering student's St. Patrick's Day celebrations, football games, and dances.
Also included in the Sub-Group are images of the Hazing of Freshmen, and the University of Missouri during WWI. Cards and pamphlets handed out by candidates for MU student body offices, MU sophomore class hazing posters (their rules for freshmen), Engineering-St. Patrick's Day posters, poems, news clips, post cards, dance programs are also included in the Sub-Group. Photographs included in the collections consist of images of the Fowler family, their farm, sawmill, tractors, mules, and their vacation trips.
Series One - Hill and Ehrlich Memorabilia
Box 1
Env 1
1929-1933 Hill family photo album: Home Management Baby, Arthur, Francis Quadrangle, freshmen hazing, students on University of Missouri and Stephens College campuses and at home; south parlor of the Presbyterian Student Center, Swope Monument, Stephens College Athletic Association, "Hell Day", election campaign, ground breaking for North Hall, Class Day Picnic, and vacation images.
Env 2
1925-1927 Hill family photo album: Camp Washita, vacation and camping images, Lake Taneycomo, Forsyth, views of Francis Quadrangle, Memorial Tower construction, news clips St. Louis Republic regarding strength test of MU students (Adam Hill included).
Env 3
Photographs of the Marmaduke Military Academy (Sweet Springs, Missouri) football team, ca. 1890-1892; MU football teams for the years 1894, 1895, 1896, 1897; Adam Hill's Savitar photo, ca. 1896. Company I, Fifth Missouri Volunteer Infantry preparing for service in the Spanish-American War, ca. 1898; Jesse Hall and Francis Quadrangle Columns, ca. 1933; Memorial Tower, ca. 1931; Alpha Gamma Sigma, ca. 1931; Adam Hill at Balanced Rock, Garden of the Gods, Colorado, ca. 1894.
FF 4
Certificates and Awards, including: Membership in "University of Missouri Union and Stadium," given for donation to building fund, ca. 1926; "Varsity M" award, for participation in intercollegiate athletics; "Life Pass" #224, certifying Adam Hall won a letter in varsity competition and giving him a lifetime pass to all athletic contests held on the University of Missouri-Columbia campus; A program for the Agriculture Club Awards Banquet, ca. 1934.
Env 5
University yearbook - M.S.U. Index, ca. 1891. Published by the Missouri State University (MU) Athletic Association, this was the first MU yearbook, precursor to Savitar. Curtis Hill was a member of the Editorial Staff.
Env 6
Photographs, including: Editorial staff of the M.S.U. Index, 1891; MU Company "A" at Camp D.R. Francis, ca. 1890; MU football teams for 1890 and 1893.
FF 7
Photograph of the MU football team for 1893.
Env 8
Curtis Hill's University of Missouri Athletic History, ca. 1890-1916, with news clippings, typed histories, and correspondence relating to athletic activities at MU. Typed histories include: Track and Field 1891-1911 (by O.D. Wetherall); Women's athletics 1895-1912; Football 1890-1911 (by Walter Stemmons, C.A. Lewis, and Curtis Hill); "A History of Athletic Organization at the University of Missouri: The Tiger Book" (by Walter Stemmons). Also contains: Pages torn from copies of the Savitar; news clips regarding MU football, ca. 1890-1916; correspondence regarding possible publication of Athletic History; lists of player and coaches; correspondence from early football team members, including: B.R. Graham, J.W. Gibson, T.W. Thompson, W.P. Records and Burton Thompson concerning their memories of football games, ca. 1890-1996; Curtis Hill biography (deceased October 18, 1925)
FF 9
MU Football's "Run Away" Team, ca. 1896. Includes correspondence and newspaper articles relating to the MU football team that "ran away" to Mexico with the University of Texas "Longhorns" football team. This was an unauthorized trip by the teams that ended with the MU coach being fired and players suspended. During this trip, the Tigers and Longhorns played the first football game ever held in Mexico, on Christmas day, 1896.
FF 10
MU Football Memorabilia, including: Button, metal: "We're From Missouri"; Ribbon, gold and cream, ca. 1900; Ribbon, gold, for MU vs. Washington University, St. Louis, ca. 1903; Ribbon, gold and black, with message, "Tiger M.S.U."; Football game programs, "Official Souvenir Programme" November 28, 1895; MU v. Kansas November 1897 Thanksgiving Day, Kansas City, MO, leather cover, shaped like a football; Foot Ball Record and Schedule Card, ca. 1908, including record 1895-1907; Photos of exhibit presented by the University of Missouri-Columbia Archives at Chancellor Uehling's Football Brunch, on 20 September 1980. Nancy Hill Ehrlich is pictured by the display case.
Item 11
MU football player doll: A small, homemade, stuffed doll dressed in black and gold uniform, carrying a football. Made of stocking knit, heavy cotton material and felt, with hand-drawn face, approximately 9" tall.
Pkg 1
Carved wooden cane brought back from Mexico by Adam Hill (See Box 1, FF 9 "Run Away" Team).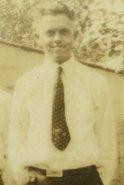 Warren Glenn Fowler, ca. 1919
(University Archives, C:22/8/1, Box 2)
Series Two - Fowler Memorabilia
Box 2
Item 1
Scrapbook Compiled by Warren Glenn Fowler of Vandalia, Missouri. Materials include: Autograph page for "Friends O' Mine"; "blueprint" poem, "Leather Leggins" (regarding civil engineers); University of Missouri-Columbia St. Patrick's celebration, with news clips, photographs of stunts, exhibits, parade floats, Engineering Memorial, and a gym decorated for the Engineers' dance.
Also included are: Postcards; "Ye Senior Engineers" 1919 resolution on growing beards for celebration (along with photos of "Whisker Club"); printed program for the "First Annual Engineers' Week, St. Pat's Dance"; "St. Pat's Nationalization Convention" delegate ribbon, organization of national celebration; typed U. Tennessee St. Pat song; "blueprint" cartoon panels: "1918 - Thanksgiving in Junior Design Room - Class `20", "Class `19 - Daily Ice Cream Feed in Senior Design Room - 1918-1919."
Also within this scrapbook are photos and other items such as: Views of student rooms at William Jewell College; Images of freshman hazing, printed 1915-1916 sports admission ticket; scenes along the Missouri River below Kansas City; MU football crowds, players, and game action; views of Francis Quad from Jesse Dome; image of how "The civil engineers administer justice" (running a paddle line in front of Jesse Hall)
Additional pictures include: Civil Engineering Society members (including identifications); Geology students along railroad tracks and at rock quarry; a Roads and Pavements class ("asleep"); MU preparing for WWI; Engineering students in classes, Senior Civil Engineering Society trip to McBane (including photos of ferry boat ride across Perche Creek, MKT bridge, dragline building levee on the Missouri River); Commencement 1919; aerial views of Broadway looking East, Francis Quadrangle, and the White Campus.
Other photographs and items are: Fowler working on State Highway Department crew; cards and small pamphlets handed out by candidates for student body offices; a poster with the message, "WARNING! HELL FIRE WARNING! DANGER! NOTICE -- Class of 1922 -- BEWARE..."; a photo of a poster with the message: "WARNING! WARNING! BEWARE!...1919 MUTTONHEADS..."; sophomore's rules for freshmen; Fowler's "Student Card" and transcript of grades ("...The student must preserve this card and present it when requested by any teacher or other official of the University..."); Tau Beta Pi Alpha of Missouri materials (such as: "blueprint" initiation banquet programs and Tau Beta Pi Gamma of Pennsylvania initiation banquet programs.
Fowler's scrapbook contains: a notification of appointment as Gregory Senior Scholar, October 31, 1918; a copy of a letter from J.M. Sills to F.P Spalding regarding Fowler's summer work, ca. 1919; newspaper clippings concerning MU during WWI; "The Honor Roll" - names and cause of death in "the Great War"; "The Awful Engineers" song (Twelfth Division of Light Railway Engineers) and "Coast Artillery Marching Song"; photos and newspaper articles relating to Fowler's work during WWI (draining Arkansas swamps), including: camps, equipment, crews, and a dredge boat.
There are also included: Printed "Farmers' Follies 1919" program sheet; a "Peerade Extra HOMECOMING MISSOURIAN" for 11 November 1917 (stunt newspaper); Mass Meeting programs (before football games and homecoming); "Pep Book" and "Victory Pep Book" (with yells, cheers, and schedule); news clips of football games; photo essays from the St. Louis Globe-Democrat, ca. 1919: "Midst the Wilds of the Current River in Missouri", "Stately Buildings and Picturesque Scenes at the University of Missouri"; "Attractive Views in Springfield, MO"; "Scenes of Historic Beauty at Hannibal, Missouri.
Finally, this scrapbook also contains: Cornell University "Underclassmen's Mud Rush" (photo postcards); Niagara Falls, 1922 photos; photos "Down on the Farm," ca. 1920-1923, including: the Fowler family members, farm activities, equipment, sawmill, tractors, mules and other livestock, and house and out buildings; photos of Pittsburg, Pennsylvania and family (including steamboat "Homer Smith" at "Brunot's Island"; printed UM Alumni Association of Pittsburgh annual dinner meeting program, ca. 1920; "blueprint" marriage announcement ("Bridge over Life's Stream"); Clair L. Jones and Christene Stebbins' graduation announcements; Vandalia Public School; Fremont High School; Ottumwa High School; program for a Farewell Dinner in Honor of George E. Crews by Highway Department, ca. 1923.