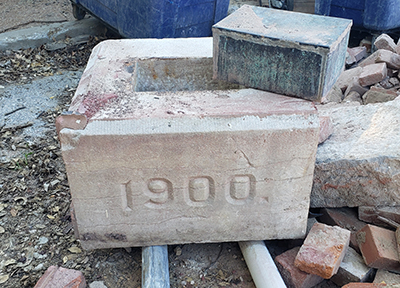 C:1/83/21
Parker Hall cornerstone and its time capsule during demolition in 2022.
The photograph was taken by construction manager Derick Laubert.
According to Laubert, the stone was located at the northeast corner of the building.
Record Group: 0 C
Record Sub-Group: 54
Records Title: UMC; University General; Miscellany; Parker Memorial Hospital; Time Capsule
Dates: 1872-1899
Volume: 1 and 2/3 cubic feet, 2.08 linear feet
Scope and Content Note
(A23-06)
This Record Sub-Group comprises a collection of materials unearthed from a container discovered in Parker Hall during its demolition in 2022. This collection consists of documents, newspapers, resolutions, and other items related to Parker Memorial Hospital and the local community of Columbia, Missouri, during 1899. Included in the materials are images of the interior and exterior of University of Missouri-Columbia buildings, a copy of the deed of Parker Memorial Hospital, a photograph of William L. Parker, the by-laws of the Masonic Twilight Lodge No. 114, and statement of resolutions by the lodge. Additionally, there is an assortment of newspapers, such as the Missouri Stateman and the Columbia Daily Hornet, and an assortment of coins.
Historical Note
Parker Memorial Hospital was built as a state-owned public and teaching hospital, opening in 1901. The project was led by the primary architect, Thomas Nolan, professor of architecture at the University of Missouri-Columbia, along with B. F. Stewart & Sons, contractor group. The building itself was mixture of the classical and colonial architecture style, made from stone, terra cotta, and bricks. Some design choices included thorough ventilation, multiple fireplaces, and double-sashed windows. The Masonic Twilight Lodge No. 114 played an integral part in the construction of the building. The Lodge held a cornerstone laying ceremony for the building, sealing a time capsule with materials relating to the building in the cornerstone, in order to signal the beginning of construction. The building was initially made possible through the financial donation of $15,000 by William L. Parker, in 1898. Parker required that an additional $10,000 be raised to complete the construction. That funding was provided by the State General Assembly. In 1900, a connecting clinical amphitheater was erected with a $8,500 donation from Adolphus Busch. Another $1,000 was raised by women in the community to furnish the building and open it for business in 1901.
William Lewis Parker was born in Fayette County, Kentucky, on May 2nd, 1827. He was known within his community to be a modest, brave, and Christian philanthropist. Furthermore, he was a Columbia businessman and farmer, experienced with multiple financial ventures in Missouri, California, and Montana. He also served in the Civil War during the battles of Dry Wood, Lexington, and Pea Ridge.
Note to Archivist: A number of the items found in the capsule were discarded due to moisture and mold damage. A list can be found here.
Also included in the inventory are digital photographs taken to document the condition of the capsule and its contents before and after its opening. The photographs were taken by University Archives staff.
Series Descriptions:
This Record Sub-Group is not divided into Record Series.
Inventory
Box 1
Item - Copper box with lead-sealed lid and joints (12 x 6 x 8 inches), ca. 1899
OSB 1
Item 1 – Document - Twilight Lodge No. 114 statement on Parker Memorial hospital (2 sheets), 1899
Item 2 - Pamphlet - Twilight Lodge's By-Laws (5 sheets), 1872
Item 3 - Document - Introduction and University Board of Curator's Resolution regarding the Parker Memorial Hospital donation (3 sheets), 1899
Item 4 - Coins (50-cent, 25-cent, 10-cent, 5-cent, 1-cent (5) pieces), 1873-1898
OSF 1
Item 1 - Document - Copy of Parker Memorial Hospital deed, 1898
Item 2 - Poster - University of the State of Missouri at Columbia - Department of Agriculture, n.d.
Item 3 - Poster - University of the State of Missouri at Columbia - Department of Engineering, n.d.
Item 4 - Poster - University of the State of Missouri at Columbia - Interior Views, n.d.
Item 5 - Poster - University of the State of Missouri at Columbia - Exterior Views, n.d.
Item 6 - Photograph – Photo of William L. Parker, n.d.
Item 7 – Newspaper clipping about a George Washington tribute from a St. Louis newspaper, 1899
Item 8 – Newspaper – Missouri Statesman (2 sheets), 1899
Item 9 – Newspaper – Columbia Daily Hornet (1 sheet), 1899
Electronic Records
Digital photographs taken of the time capsule and its contents by University Archives staff before, during, and after its opening and conservation treatment.
Restrictions Note: The Archives of the University of Missouri-Columbia is required by law and Board of Curator's policy to restrict access to some files and information. Student records are held as confidential under the Federal Educational Rights and Privacy Act of 1974 and by University policy. Faculty promotion and tenure records and Academic Personnel files are restricted for 75 years, or the lifetime of the individual. All grievance, disciplinary, and medical records are treated as confidential files. Consultations with legal counsel, both in-house and external, are protected by the attorney/client privilege and will not be released.