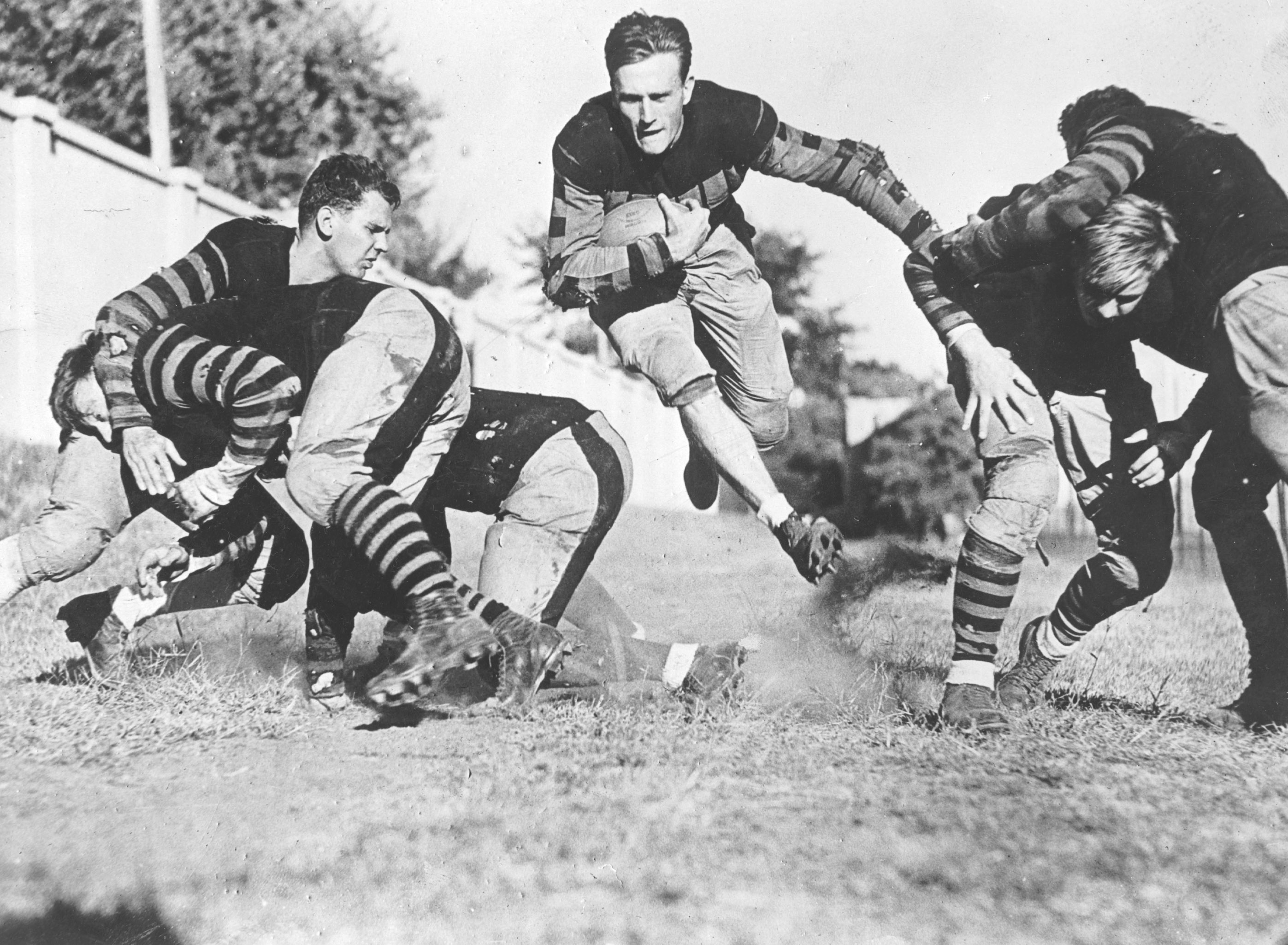 AP Photograph
(University Archives, C:0/47/8, Box 1, FF5)
Record Group: 0 C
Record Sub-Group: 24
Records Title: UMC; University General; Photographs; Photograph Album
Dates: ca. 1890-1959, bulk 1930-1950
Volume: 2 cubic feet, 2.5 linear feet
Scope and Content Note:
This collection contains a photographic album 11"x15" University of the State of Missouri. Photographs of Officers, Faculty and Instructors. Included in the officers are members of the Board of Curators, and there are also photographs of the Matron of the University and the Librarian. This ca. 1890s album has eighteen two-sided pages with four photographs on each side. Many of the photographs are missing. In this collection, there are also individual photographs of football players and teams, campus buildings, political figures and Agricultural Boards.
Series Description:
This Record Sub-Group is not divided according to series. The individual photographs are arranged alphabetically by topic.
Note to Researchers: Some of the photographs in this collection were taken by AP photographers; University Archives does not have the copyright to these materials.
OSB 1
Page One
Board of Curators
G. F. Rothwell, President of the Board
B.M. Dilley, Vice-President of the Board
Gardiner Lathrop
verso
J.R. Rippey - drawing
E.Y. Mitchell
Page Two
verso
B.R. Cauthorn
Page Three
T.J.J. Dee
verso
Faculty of the University
James S. Blackwell, Chairman of Faculty
Page Four
verso
George D. Purinton, Curator of Museum
G.C. Broadhead
Page Five
Edward D. Porter, Dean of Agricultural College, Director of Experiment Station
verso
W.G. Manly
J.P. Blanton
Page Six
H.C. Penn
C.W. Marx
verso
Fred Homburg
Charles A. Keffer
Frederick C. Hicks
Page 7
Elmo G. Harris, Rolla
George A. Wauchope
verso
Leo Wiener
Lt. Samuel A. Smoke
W.H. Seamon - Rolla
Page 8
W.W. Clendennin
Leo Wiener
Page 9
verso
Instructors and Assistants of University
Paul J. Wilkins - Rolla
C.L. Hare
W.R. Dodson
J.F. Paxton
Page 10
W.C. Tindall
Page 11
M.S. King
W.R. Gentry
M.H. Lockwood
verso
Isidor Loeb
Page 14
Other Officers
Mrs. Kate Hendrix, Matron of University
verso
J.W. Monser, Librarian
Box 1
FF 1 - Baptist Sunday School, Columbia, ca. 1930s
FF 2 -Conference on the Effect of Feed on Quality and Palatability of Meat, 1924
FF 3 -Faculty, State Boards, n.d.
FF 4 - Football, 1928
FF 5 - Football, 1931-1932
FF 6 - Football, Orange Bowl trip, 1939
FF 7 - Football, Orange Bowl beach photo with MU Football players Notowitz, Wallach, and Robert Lloyd Faurot, 1939
FF 8 - Football, Sugar Bowl, 1941
FF 9 - Football, ca. 1943
FF 10 - Football, Cotton Bowl, 1945
FF 11 - Football, ca. 1948
FF 12 - Football, Gator Bowl, 1949
FF 13 - Football, 1950
FF 14 - Football, 1955
FF 15 - Football, 12/29/1959
FF 16 - Governor Elliott W. Major and Missouri State Board of Agriculture, ca. 1914
FF 17 - Governor Guy B. Park, Allan Thompson, Dean W.J. Robbins, and F. B. Mumford, ca. mid-1930s
FF 18 - Dr. Gray, U.S.D.A., and F. B. Mumford, n.d.
FF 19 - Groundbreaking, ca. 1950s
FF 20 - Harvester Scholarship recipients, n.d.
FF 21 - Scene in Italy, ca. 1920s
FF 22 - Land Grant College Association, ca. 1909
FF 23 - Library, ca. 1890s
FF 24 - Library, unknown building, n.d.
FF 25 - Monument to Besenzanica, Milan Italy, n.d.
FF 26 - Residents of 911 Lowry St. includes young Isidor Loeb, 1909
FF 27 - State Board of Agriculture, n.d.
FF 28 - Trailer Housing, 1945
FF 29 - University of Missouri Hospital, 1958
FF 30 - Wrestling Team, 1929
OSF 1
Sheet 1 - Composite sheet of photographs of campus building exteriors, ca. 1900
Sheet 2 - Composite sheet of photographs of campus building interiors, ca. 1900