Y1.9K: Mizzou in 1900

The Columns destroyed?
It is difficult to believe, but the Columns were almost torn down. In the years of reconstruction after the fire of 1892, many thought of the Columns as an eyesore, blocking the view of the new buildings being constructed on the Quadrangle. Some even feared that they were structurally unsound and a safety hazard.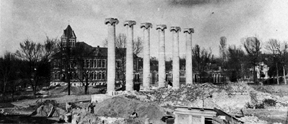 Columns, ca. 1892
(University Archives, Bulletin, 11/22/1971)
Among the original opponents of preserving the Columns was Curator Gideon F. Rothwell. A local paper reported that Rothwell had ordered two mule teams to tear down and haul off the Columns. Upon seeing this, a leading Columbia citizen named Jerry S. Dorsey protested their removal. As the news clipping states, "Mr. Dorsey declared that the Columns could not be pulled down by a herd of elephants, whereupon Mr. Rothwell announced that they were coming down if he had to dynamite them." The heated argument even progressed to fisticuffs between the two distinguished men.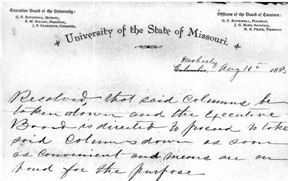 1893 Board of Curators Resolution to Demolish the Columns
(University Archives, UW:1/4/1, Box 9, FF 3B)
Dorsey obtained a judicial writ that same day which delayed their destruction. An architect declared that they would be structurally sound, and Rothwell and the other curators soon had a change of heart. In fact, Gideon Rothwell was henceforth instrumental in their restoration.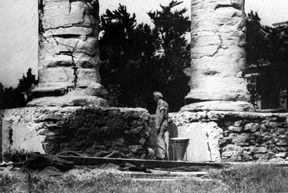 1949 Repair of the Columns
(University Archives, Bulletin, 11/22/1971)
A Modern University in 1900
In the words of one historian, "the creation of a modern university" in Columbia occurred during the decade prior to the turn of the century (Viles 247). There were more students, more subjects, and more specialized faculty than ever before. There were stricter standards for admission and the adoption of the Elective System. The Elective System meant that there was no longer a Bachelor of Letters degree, there were fewer hours required for graduation (120 not 138), and there were no required classes for those in academic departments. Richard H. Jesse of Jesse Hall fame was the President and much of the progress of the university was due to his perseverance and direction. His involvement in university life even included time to handle complaints about the cooks!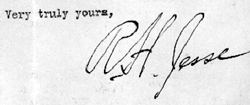 Richard H. Jesse's Signature
(University Archives, C:1/8/1, Box 1)


Please click here to view Page Three of Y1.9K.