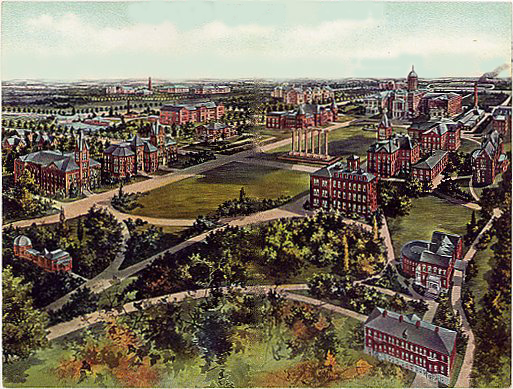 "Bird's Eye View of the University of Missouri, Columbia, MO"
(University Archives, C:0/46/34)

Since July 4, 1840, when the first cornerstone of the University of Missouri-Columbia was laid, this University has been shaped and developed by many great individuals. Throughout the years, the contributions of these historic figures have been commemorated in the form of oil portraits. These paintings can be found in many of the buildings on campus. Because of recent interest in these portraits, this collection has been started to document artwork. The portraits presented here represent only a fragment of all such paintings that are associated with this campus.
The University Archives extends special thanks to the Secretary to the Board of Curators, the State Historical Society of Missouri, Ellis Library, the Department of Art History and Archaeology, and the Museum of Art and Archaeology. Without the help of individuals at each of these locations, this exhibit would not have been possible.

Curators

Deans and Faculty

Presidents

Contributors




Copyright © Curators of the University of Missouri 1997 & 2001
Published by: University Archives muarchives.missouri.edu/
Originally Prepared by Blain Cerney: November 2001
Revised: 22 January 2007
URL: http://muarchives.missouri.edu/portrait.html