Note: All images are thumbnails to larger photographs. Click on the thumbnails to see the pictures in greater detail.

The Girl's Rifle Team, established in 1921, was one of the first organized in the U.S. During the 1924 competition the MU team, which practiced under the eaves of Jesse Hall attic, was undefeated. During the 1930's interest was high among coeds; an annual intramural sorority competition was held in addition to the intercollegiate competitions. Emily P. Marshall was lauded as the Best Rifle Shot of 1933-34 with a perfect score of 1,000 out of 1,000; in one competition she scored twenty-three consecutive bull's eyes. The Girl's Pistol Team, organized in 1930, was the first of its kind in the U.S. The team members received letters from all over the country offering matrimony and praise, and captured many trophies for their prowess on the pistol range. Telegraphic and postal matches were also held as part of gun competition.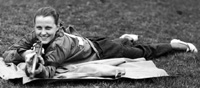 Emily Marshall, 1934
(University Archives, C:8/18/8)
The first women's basketball team was organized in 1898, according to the MSU Independent, the student newspaper at the time. There were inter-class games and intercollegiate games with Christian College (later Columbia College) in that first year. Three years later, there were contests with teams from Kansas and Nebraska. In 1904 a Women's Basketball Association was organized. By 1924-25, with almost 140 signing up, basketball was one of the most popular women's sports. A "color tournament" of fourteen teams was organized as well as an inter-class competition. The Class Championship was won that year with a score of 32-24 by the Juniors over the Sophomores.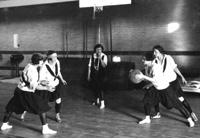 Women's Basketball, 1925
(University Archives, C:8/18/8, Box 2, FF 1)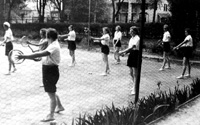 Women's Tennis, 1934
(University Archives, C:8/18/8, Box 7)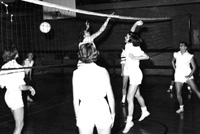 Women's Volleyball, 1952
(University Archives, C:8/18/8, Box 7)

Gallery 4 of the Exhibit