Note: All images are thumbnails images to larger photographs. Click on an image to see the individual picture in greater detail.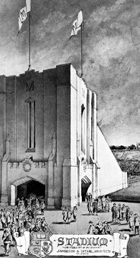 Sketch of Proposed Memorial Stadium, 1923
(University Archives, C:0/29/1, Bx4, FF Mem Tower - Print Materials)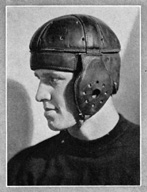 Don Faurot As a Halfback for MU, 1924
(University Archives, C:22/1/1, Savitar)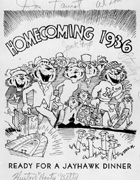 Program from Homecoming, 1936
(University Archives, C:31/00/2)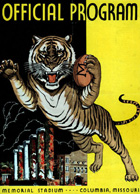 1937 Program
(University Archives, C:31/00/2)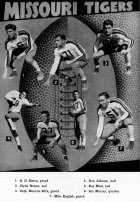 MU Players from 1937
(University Archives, C:31/00/2)

1946 Program
(University Archives, C:31/00/2)

The University of Missouri's annual football battle against the University of Kansas Jayhawks is the oldest such rivalry west of the Mississippi. Though this hotly contested series was initiated in 1891, MU's first win against KU was not until 1893, a game which the Jayhawks were also strongly favored to win. Enthusiastic celebrations on the part of the 5,000 Tiger fans at the 1903 game started a tradition which has not faded. The game was played in Kansas City until 1911, when conference rules changed to require all Intercollegiate football games be played on university campuses instead of in urban areas. "Come Home," said 1911 MU football Coach, C. L. Brewer, and so the University of Missouri "Homecoming" tradition began. Since the annual battle with the University of Kansas alternated between the campuses, a Homecoming contest against Kansas was celebrated in Columbia only once every two years until 1960 (except 1918 when there was no varsity schedule).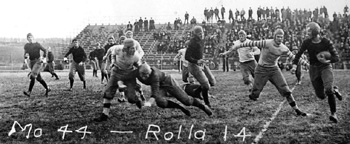 MU Versus Rolla, 1913
(University Archives, C:0/3/7)

Gridgraph Scoreboard, 1924
(University Archives, C:22/1/1, Savitar)


Memorial Stadium, 08/1926
(University Archives, C:0/47/12, Box 1, FF 7)


Memorial Stadium, 11/1926
(University Archives, C:31/00/2)

Rollins Field was the home of MU football until the Homecoming of 1926 when the Memorial Stadium was dedicated after it was completed at a cost of $365,000. The Stadium was built with funding from three sources: pledges made "in memorial" to MU students who lost their lives during war, game ticket revenue, and bonds. Memorial Stadium has undergone many additions, changes and renovations through the years: new press boxes, additional bleachers, grass field to omniturf and back to grass.

The spirit of MU football was recognized in 1972 when the playing field at Memorial Stadium was dedicated to Coach Don Faurot who played on the Missouri Tiger football team from 1920-1924. He was head coach from 1935-1956, with a record of 101-79-10, and athletic director from 1935-1967. Taking charge of an MU football program coming off a 2-23-2 three year record, Coach Faurot quickly rebuilt his team. By 1939, he took MU's revitalized team to the Orange Bowl. In January 1942, with his new offensive formation, the Split-T, Faurot led the Tigers to an appearance at the Sugar Bowl. One of Coach Faurot's favorite highlights, however, was his Tigers 15-13 defeat of the Jayhawks, with a safety on the final play of his final game as head coach.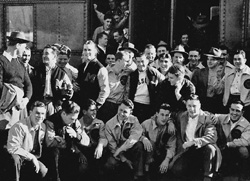 Trip to the Sugar Bowl, 1941-1942
(University Archives, C:22/1/1, Savitar)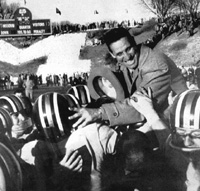 Don Faurot's Last Game as MU's Head Football Coach, 1956
(University Archives, C:22/1/1, 1957 Savitar)