Note: All images are thumbnails images to larger photographs. Click on an image to see the individual picture in greater detail.


Advertisement for Foot Ball Shoes
(University Archives, C:22/3/5, Independent)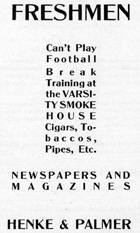 Advertising Aimed at Non-Football-Playing Freshmen
(University Archives, C:22/3/5, Independent)


Score Card, 1907
(University Archives, C:22/8/1)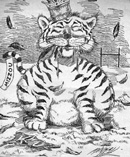 KU Cartoon, 1909
(University Archives, C:22/8/11, Box1, FF3)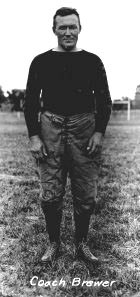 Coach Brewer, 1911
(University Archives, C:0/3/7)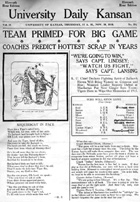 University Daily Kansan, 1916
(University Archives, C:22/8/5)

Interest of University of Missouri students in the new sport of "foot ball" was, however, not to be denied. On October 10, 1890, a meeting was held and the Foot Ball Association was formed. Within days teams were formed by the Schools of Law, Engineering and Academics. Members voted that a team be organized to play Washington University, in St. Louis, on Thanksgiving Day, 1890. The game, played in front of a crowd of 3,000, was a disaster for the MU team. The Washington University varsity team had been playing for several years and after the first ten minutes, they were within five yards of the MU end zone. Although the MU team put up what resistance they could, as Columbia supporters wildly cheered "M-i-s-s-o-u-r-i Ah!", the final result was Washington University 28, MU 0.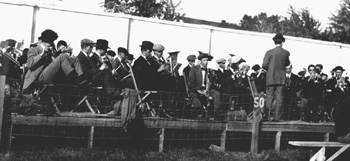 MU Band, 1912
(University Archives, C:0/3/7)

Another disadvantage, according to the MU fullback Burton Thompson, was that the Tigers "had been taught that our only defense must be with shoulders and arms or by interference with the body. We had been strictly warned not to use our hands, open or closed, in warding off a man; but, alas!, the umpire and referee observed no such rules of the game...what we had first imagined was slugging, we very soon found out was a perfectly proper method of defense and offense on their part." Following its sound trouncing in St. Louis, MU's varsity was challenged, upon their return home, by the School of Engineering team. The Engineers suggested that they could have made at least one goal against the Washington University team. The ensuing game, which was played with a badly leaking ball, ended with a final score of MU Varsity 80, MU Engineers 0, an outcome which must have salved the bruised egos of the varsity football players.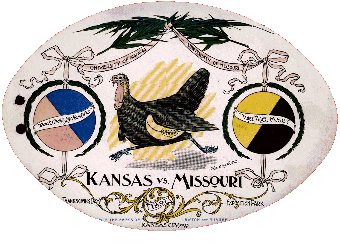 MU-KU Program, 1897
(University Archives, C:22/8/1)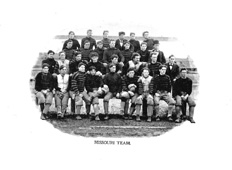 "Missouri Team" MU-KU Program, 1897
(University Archives, C:22/8/1)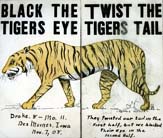 Two Postcards From 1908 Game Versus Drake University
(University Archives, C:22/8/11)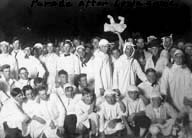 Shirt Tail Parade Following Drake Game
(University Archives, C:0/3/7)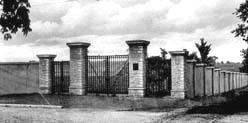 Gates of Rollins Field
(University Archives, C:0/46/7)

In 1891 a field was set aside for athletics, but it wasn't useful until 1895 when the legislature appropriated $1,300 for work on the field. The money allocated did not cover the amount needed to make it adequate for sports, but with the help of the Rollins brothers of Columbia who donated funds for a cinder track as well as doing the grading and leveling of the field and the Engineering students who built wooden bleachers for the fans the field was ready. A wall and concrete bleachers were built with the profits from the MU-KU football game in 1910. When the field was finally completed it was dedicated as "Rollins Field" at the MU-KU football game of 1911, the first "home coming" game.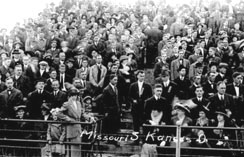 An Anxious Moment for the Fans at Homecoming, 1913
(University Archives, C:0/46/7, Box 1, FF 9, Pg 3, E)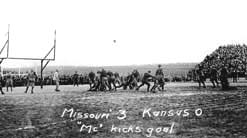 The Homecoming Game-Winning Kick, 1913
(University Archives, C:0/46/7, Box 1, FF 9, Pg 3, F)

Next: Page III of Mizzourah! Football at MU