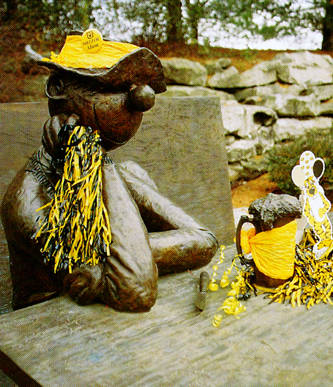 Happy Birthday,

Beetle Bailey®!
The Savitar, Volume 101, 1995
Beetle Bailey®, one of Mizzou's most famous alumnus, turns 50 this fall. Although Beetle® never stepped foot in a campus classroom, he now occupies a prominent place on the MU campus. A sculpture of Beetle's® residing on campus commemorates Beetle® beginnings on the MU campus. The creation of Addison Morton Walker, a 1948 MU alumnus, Beetle's® character was derived, in part, from a campus hangout called "The Shack," whose colorful atmosphere was enjoyed by generations of college students. Walker's early work also includes contributions to ShowMe, a student publication, and the Savitar, the MU college yearbook.
For inquiries about "The Shack" drawing please contact Joe Franke, Columbia, MO
Sources: The Joe Franke Collection; Jane Espy Meyer Memorabilia Collection; The University Archives Vertical Files.






Copyright © Curators of the University of Missouri 2000
Published by: University Archives muarchives.missouri.edu/
Created by LJ Divine
Revised: 08 November 2001
URL: http://muarchives.missouri.edu/beetle-one.html